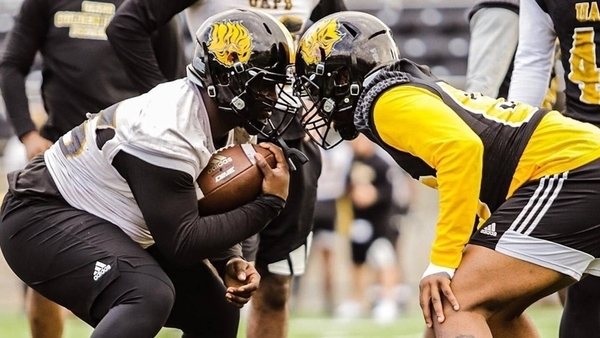 The University of Arkansas at Pine Bluff Golden Lions announced their spring schedule for practice and the 2022 "Friday Night Lights" Black & Gold Game at Simmons Bank Field.
The Golden Lions kicked off the spring practice Monday, March 14, and will include the annual flag football game on Friday, April 22 at 5 p.m., followed by the Black and Gold game at 7 p.m.
Practice are limited to an NCAA maximum of 15 and the Golden Lions will wrap up the first week of practice on March 18, before spring break, and will be back on the gridiron on March 29, 31, April 2, 5, 7, 9, 12, 14, 18, 20, and 22.
The spring practices drills will give many new faces their first opportunity to learn the play calling and beef up the depth chart. Player's coaches and fans alike will have their chance to see the likes of returning and mid-year players.
Spring Practice Dates:
March
14 Spring Practice
15 Spring Practice
17 Spring Practice
18 Spring Practice
29 Spring Practice
31 Spring Practice
April
2 Spring Practice
5 Spring Practice
7 Spring Practice
9 Spring Practice
12 Spring Practice
14 Spring Practice
18 Spring Practice
20 Spring Practice
22 Friday Night Lights (Black & Gold Scrimmage)