Tide Tops Hogs in Season Finale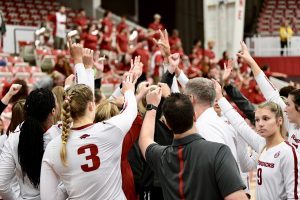 TUSCALOOSA, Ala.– The Arkansas volleyball team fell 3-2 in a heart breaker Friday night at Alabama in the team's season finale.
The Hogs closed the season at 11-17 (5-13 SEC) in head coach Jason Watson's third year season with the team. Arkansas saw several milestones this season, with senior Okiana Valle finishing her career in cardinal and white with the second-most all-time digs in program history while Rachel Rippee is now fourth in all-time assists.
FINAL
Alabama 3, Arkansas 2
Attendance: 727 | Time: 2:23
Foster Auditorium
#RazorStats
• Leaders vs Alabama
o Kills: Hailey Dirrigl – 19
o Digs: Okiana Valle – 33
o Blocks: Liz Pamphile – 6.0
The Razorbacks started the match slow, dropping the first set 25-13. Arkansas gained momentum in the second set, tying the match with a 25-20 win.
The team went up a set following a 25-23 third-set win, before the match was once again evened with a 25-10 victory from Alabama. Arkansas pulled ahead early in the final set, but eventually fell 15-10.
Two Razorbacks recorded double-doubles against the Crimson Tide, with Rachel Rippee (19a, 10d) seeing her fifth season and 24th career double-double while Reagan Robinson (11k, 12d) saw her second career double-double.
BY Jordan Manning