By Ray King
A Pine Bluff man was arrested just before midnight Saturday after he allegedly tried to break into a security vehicle at the Saracen Casino.
Tyriek Hamilton, 22, was taken into custody by police and casino security officers after the incident at 11:45 p.m.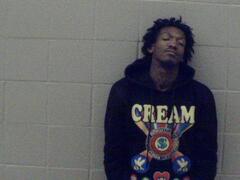 Reading from a probable cause affidavit from Detective Keith Banks, Deputy Prosecutor Beth Carson explained what happened.
Pine Bluff District Judge John Kearney set a $15,000 bond for Hamilton Tuesday after ruling prosecutors have probable cause to charge him with robbery.
He was also charged with misdemeanor public intoxication and resisting arrest and was told to come back to court on Jan. 4.