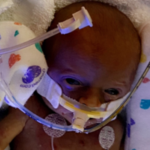 Konner Edward Adamson of Sheridan, Arkansas was born May 5, 2020 at Little Rock, the son of Sean and Kacy Crosby Adamson. He was baptized, and entered back into the loving arms of Jesus, on May 16, 2020.
In addition to his parents, he is survived by his twin brother, Kristopher Sean Adamson, and his big sister, Mia Isabell Adamson. His grandparents are David and Rose Adamson, Julie Crosby, Chris Crosby, Sr. and wife Doris; great grandparents, Terry and Annette Vanlandingham. He is also survived by a host of other family members.
A private memorial service will be held.