Harrison grabs 3 TDs, No. 3 Buckeyes rout Arkansas St 45-12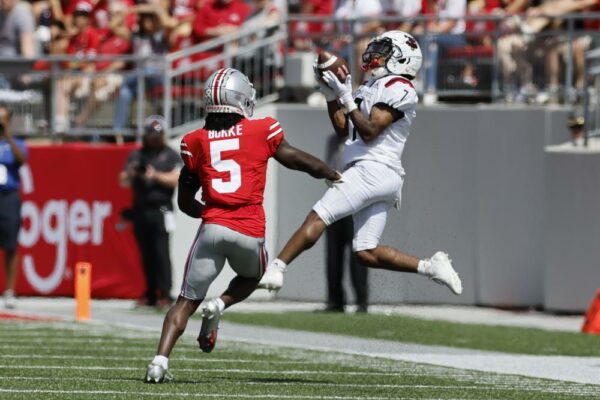 COLUMBUS, Ohio (AP) — With two Ohio State starting receivers sidelined with injuries, Marvin Harrison Jr. got another prime chance to shine on a team loaded with great wideouts.
Harrison, the son of a former NFL star, caught three touchdown passes from C.J. Stroud as the No. 3 Buckeyes beat Arkansas State 45-12 on Saturday.
With Jaxon Smith-Njigba and Julian Fleming unavailable, Harrison became Stroud's go-to guy, grabbing a career-high seven passes for 184 yards, including a pair of in-stride 42-yard touchdowns in the first half, and a leaping 30-yard scoring grab with two defenders draped on him in the third quarter.
"He can put it wherever he wants to," Harrison said of Stroud. "He's a great player – it's like he handed me the ball."
Coupled with his three-touchdown performance as a first-year player in the Rose Bowl last season, Harrison became only the second Ohio State player to have a pair of three-touchdown receiving games in his career. Joey Galloway had multiple touchdown games in 1993 and '94.
"Marvin's route running is very mature for his age," Ohio State coach Ryan Day said. "When you see somebody who has played as much as he had with the high level of route running, it's pretty remarkable."