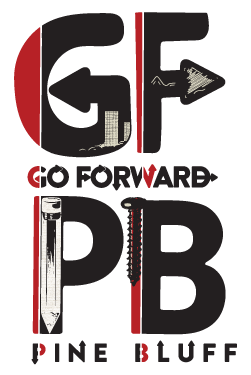 Go Forward Pine Bluff has written a in depth piece on the Urban Renewal Agency.  GFPB CEO Ryan Watley stated that Urban Renewal and the former director has been a hot topic, "We have used this last week to gather the who, what, when, where and how much in an effort to provide the public a complete picture of the Urban Renewal Agency".
Deltaplexnews is providing the report word for word below.
The Pine Bluff Urban Renewal Agency Background
The Urban Renewal Agency was initially included in the Go Forward Pine Bluff Plan to address blighted properties.
An Urban Renewal Agency was created to transform blighted urban areas into productive property. Such agencies typically are empowered to administer eminent domain and can take out bonds. The agencies began to be used widely in the U.S. after World War II, proceeding through the Great Society of programs of President Lyndon Johnson in the 1960s. In some cities, the agencies drew criticism for discriminatory results affecting people of color. Pine Bluff created an Urban Renewal Agency in 1961 and dissolved it approximately a decade later. This Agency was responsible for erecting the Pine Bluff Convention Center.
A bill co-sponsored by State Representatives Vivian Flowers and Kenneth Ferguson of Pine Bluff enabling urban renewal agencies to be revived passed in the 2017 Arkansas Legislative session.
Go Forward Pine Bluff advocated for reviving the Urban Renewal Agency in June 2017. In August of 2017, the Pine Bluff City Council unanimously approved Resolution 4041 declaring the need for an Urban Renewal Agency, reviving the dormant Agency, and authorizing the Agency to exercise the powers and conduct its affairs as provided by law, which included five board members.
Initial members of the Board were Rita Conley, Jimmy Dill, Lloyd Franklin, Travis Martin, and Kirby Mouser. The Board worked closely with Go Forward Pine Bluff and Pine Bluff Economic and Community Development to compile the data to draft the Central City Urban Plan.
A subsequent vote by the Pine Bluff City Council on Resolution 4100 declared three areas as targets for action by the Urban Renewal Agency.
AREA 1 is bordered by U.S. Highway 65 and 34th Avenues on the North and South, and Ohio St. and Hazel St. East and West.
AREA 2 is bordered by Watson Blvd., Civitan Drive as the North border, and U.S. High 65 as the South border. The Arkansas River and University Drive as the East and West borders.
AREA 3: is bordered by East 16th Ave. and East 17th Ave. as the North and South borders, respectively. Ohio St. is the west border, and the 1-530 interchange East border.
This configuration was a part of the Central City Urban Renewal Plan proposed by the five-member Board.
Resolution 4100 states in part that the City Council of the City of Pine Bluff finds "there exists in the City certain blighted areas, which, among other things, constitute an economic and social liability imposing onerous burden which decrease the tax base and reduce tax revenues, substantially impair or arrest urban growth, retard sound economic development, aggravate traffic problems and substantially impair or arrest the elimination of traffic hazards and the improvement of traffic facilities; and that by prevention and elimination of the same, property values will be strengthened and that this condition can best be remedied by cooperative participation of private enterprise, municipals governing bodies and public agencies. "These resolutions were necessary because the Board could only spend funds after the City Council's approval.
As of 2017, more than 100 blighted properties were in the three areas addressed by the urban renewal plan, and more than 500 condemned units were within Pine Bluff City Limits.
Selecting the areas was a lengthy process. "The Urban Renewal Agency took Go Forward Pine Bluff's beginning ideas, refined it, discussed with city departments, individuals, and people on our own," Commissioner Mouser said. "Where could we make the most impact? Where could our efforts and dollars be multiplied? Where could it improve the quality of life for most Pine Bluff citizens? That's how we chose those areas."
In addition to demolishing and removing condemned properties, the Urban Renewal Agency can pursue various other projects. These include creating a land bank for acquiring and disposing of land for public improvements and private developments. The Agency may also improve streets, curbs, sidewalks, landscaping, and public parks.
The search for an Executive Director was rocky, to say the least. The five-member Board agreed to hire Brad Williams of Little Rock upon public advertising. Although accepting the position, Brad Williams did not report to work. Then proceeded to hire Dr. Leonard Williams of Pine Bluff. Williams quickly resigned in two weeks. Months went by without a viable candidate for the job, and Maurice Taggert was encouraged by many in the city to apply for the position.
At the time, Taggart worked in the City Attorney's office as a Trial Coordinator and worked occasionally as an adjunct professor at the University of Arkansas at Pine Bluff and Southeast Arkansas College. According to Dill, Taggart's municipal experience made him a prime candidate. He was hired as the Executive Director.
Upon taking the position, Taggart began working aggressively with Pine Bluff Economic and Community Development and Go Forward Pine Bluff to understand the Central City Urban Renewal Plan and organize it in phases. Area 1, as defined above, was structured as phase one since efforts would prevent the further proliferation of its blighted, deteriorated areas.
Blight Removal
Taggart began working with code enforcement to obtain files of properties the city had condemned, but no action had been taken to raze the properties. During his review, he found files dating back to 2012. The outdated files presented a problem since potential ownership changes and other conditions contributed to the property being condemned. Taggart developed a standard operating procedure for files and demolitions in partnership with the Arkansas Department of Environmental Quality and consultant Dean Blacket from Lafyette, La.
After a year of laying the groundwork, demolitions began in September 2018. According to Commissioner Kirby Mouser, the first part of the process is addressing "low-hanging fruit." "There are shovel-ready projects, houses that have already been condemned and have been cleared of asbestos," Mouser said. "Residents in the neighborhoods where the first two homes were torn down say that the agency can't act quickly enough." Sitting on her front porch, Linda Dunn pointed to several homes that needed to be torn down after years of abandonment. Asked how abandoned homes affect her neighborhood, Dunn replied, "It ain't making it no better." The abandoned houses are a fire hazard, she said, and serve as places where people go to do drugs.
Initially, the Agency relied on contractors to tear down blighted buildings. Contractors were charging by the home's square footage in addition to landfill cost. The average price was $6.00/sq. Ft without asbestos abatement.
Due to the existing and growing number of condemned properties, Go Forward Pine Bluff proposed that creating an internal capacity to do the demolitions might be cost-effective. A cost analysis with then-long-time Finance Director Steve Miller) revealed that labor costs to raze properties would be constant with the salary employees. The agency would save time and money. In August 2018, the agency received permission from the City Council to purchase a large excavator, a Peterbuilt truck, a trailer, and eight roll-off dumpsters.
It was stated then by Maurice Taggart that outside consultants would be hired to conduct asbestos testing and abatement.
The City of Pine Bluff became the focus of national news coverage in 2016 following a New York Times story that found a program using prisoner labor to demolish dilapidated homes had not followed environmental safety guidelines.
Buildings that have substantially deteriorated or been abandoned are commonly known as blighted properties. Experts link blight with increases in crime and decrease in public health and property values in a city.
The Urban Renewal Agency proceeded to raze through May of 2019 when former council member Ivan Whitfield requested a legal opinion from City Attorney Althea Haden Scott on the legality of the Urban Renewal Agency tearing down dilapidated homes. Scott wrote that the Urban Renewal Agency needed the authority to raze structures after first acquiring the property through the purchase, contract, eminent domain, or donation. Demolition was halted until November 2019, when Attorney General Leslie Rutledge stated that the Agency most likely could do ruins legally through a cooperative agreement with the city. The deal was drafted and approved by a 5-3 Pine Bluff City Council vote in December 2019.
Fast forward to 2023, the Agency has almost demolished 200 homes. Yet the lien filing process to recoup funds or the land has yet to catch up. According to Chandra Griffin, Executive Director of the Agency, "it is incumbent upon code enforcement and the city attorney office to file and pursue these liens respectively, or else we are providing bad actors with a newly graded lot that can be used to profit. The city can be held liable."
Downtown Renewal
A lasting relationship between the Urban Renewal Agency and Go Forward Pine Bluff was forged through the downtown master plan and vision created by the Community Design Center at the University of Arkansas at Fayetteville. In August 2017, Go Forward Pine Bluff contracted with a public firm for $250,000.00 from private resources to develop the master plan and vision. The group held multiple community engagement sessions for public input as part of this process. The "Re-Live Downtown Pine Bluff" plan was designed and presented by internationally renowned urban designer Steve Luoni. Luoni is the Steven L. Anderson Chair in Architecture and Urban Studies and a Distinguished Professor of architecture.
Presented as a word cloud, some citizens expressed the desire for downtown to have an arts and entertainment district, reinvestment in buildings, and leverage rich history and culture within the area, amongst many other statements. Luoni then began to explain that as downtown goes, so goes the city and that a thriving downtown requires population density and mixed-use development. The plan provides a pallet of 28 walk-up housing types for all income groups. Complimenting the housing are the development of signature projects which include an art walk celebrating the Delta's music heritage, a new theater row on 2nd Ave. that features a new cinema and café, and an expanded waterfront offering new amenities, mainly a floating lawn.
During the meeting, Go Forward Pine Bluff CEO Dr. Ryan Watley expressed that the plan was only a vision and could only come to fruition with continuous public and private investment over a period ranging between fourteen and twenty-one years.
During the January 2019 meeting of the Pine Bluff Urban Renewal Agency, Watley and Taggart presented details of the Re-Live Downtown Plan to the Urban Renewal Board and asked that it be adopted as an official plan. In addition, Watley explained that GFPB had included many members of the Board throughout this process. Further, Watley explained, "Go Forward Pine Bluff paid for the plan because the Urban Renewal Agency was in its pre-organization phase and had yet to be approved to spend funds. The Community Design Center is part of a public institution, and so the work was done at a significant discount. Watley asked that the Board acquire the plan.
The board members agreed that the plan was developed with community input and its strategic value for downtown revitalization and that it wanted to avoid going through the same process again.
Property Acquisition
To implement the plan, the Urban Renewal Agency began acquiring property through the plan and arresting future blight associated with many downtown buildings.
In May of 2019, the Agency purchased all parcels between Walnut and Pine Streets from 4th to 3rd  Avenues, consisting of approximately 170,300 square feet for $672,000.00 ($3.94/sq.ft). Subsequently, the Agency began to buy property between the 3rd and 4th blocks of Main St. One purchase was for eight parcels on the west side of Main, approximately 30,000 square ft. The acquisition price was $297,000 ($9.90/sq.ft.). The Agency purchased an additional 24,877 square feet on the same block for $70,000.00 ($2.87/sq.ft). A third purchase in this area was for 13,692 sq. ft at $137,000.00.
The Agency spent $1,176,000 to acquire approximately 239,000 square ft (4.6 acres)  at $4.92/sq.ft.
Griffin explained that property acquisition is essential to implement the Re-Live Downtown plan or any plan for this area. While we would have liked to acquire it at a lesser price, less than $5.00/sq.ft is well below a standard rate for commercial property.
Property acquisition did not stop. The Plaza Hotel connected to the Pine Bluff Convention Center has significantly hindered the recruitment of conventions to Pine Bluff. In December 2019, The Urban Renewal Agency completed the purchase of the dormant 200-room facility for $1.2 million.
Joseph McCorvey, Executive Director of the Pine Bluff Convention Center, explained, "The Convention Center worked with the Urban Renewal Agency to fund a feasibility study by Hotel Valuation Services before the purchase. The study showed how profitable the hotel could be if a franchise flag branded a new or completely renovated facility."
According to City Council minutes, on November 16, 2015, a resolution was introduced directing then-Mayor Debe Hollingsworth to purchase the Plaza Hotel for $800,000.00. According to the minutes, the resolution was made by then-Alderman George Stepps and seconded by Mays, but after a lengthy discussion, Stepps withdrew the motion. Mays withdrew his second, and the resolution was pulled.
McCorvey added, "The main thing is that we moved to get the doggone hotel, which has been an albatross around my neck since I've been here, which will be two years, January 2, 2020. Everybody in the business knows that if you have a convention center, you've got to have a hotel in proximity for the facility to be successful". Since the purchase, the Urban Renewal Agency has transferred the property to the convention center in partnership with P3 Group Inc. In addition, the partnership has secured a Marriot Franchise Tag,  financing, and awaits approval of a USDA guarantee to close the transaction on a new 125-room facility. The deal is expected to be complete by August 2023, with construction immediately following.
Family fun entertainment was a significant point of interest during public comments. According to Leigh Cockrum, office manager of Go Forward Pine Bluff, "Citizens were asked during a Pop-Up in the Bluff Festival to write down ideas for Pine Bluff. The recommendation for a Go Kart track was mentioned several times and given a lot of praise."
Deciding on a location for the proposed track, the former Admiral Benbow Inn on East Harding, long an eye sore on a main thoroughfare, immediately came to mind. According to Watley, the site was atrocious. However, the land parcel itself is a major asset considering its location. Taggart and Watley began to discuss the vision of accomplishing two goals in one area. Upon contacting the owner, they discovered that he needed to sell quickly. In December of 2022, the owner accepted an offer for the 225,000 square-foot parcel for $150,000, which equates to $0.67/sq.ft.
Since then, the Urban Renewal Agency has reached one of its goals by razing the property with the purchased demolition equipment and hired crew. Griffin identified a partner that allowed the demolition debris to be delivered at a fraction of the cost to the landfill. These two together represented significant savings compared to the cost of contracting the demolition.
The goal of establishing a family fun center went full steam ahead as Griffin signed a contract in May of 2023 valued at $697,000 with Amusement Products for the go-kart facility construction. The track will be 820′ x 20′ with 14 state-of-the-art electric go-karts. Miniature golf and paintball courses are viable, provided costs are controlled. The track and associated amenities are expected to be completed by November 2023.
Main Street
While other property purchases were in process, the Urban Renewal Agency began to evaluate where to start redevelopment on Main St. Based on a 2017 preliminary report provided by Cromwell Architects, the 316, 322, and 324 Main St. buildings could be stabilized with minor investment.
The Urban Renewal Agency solicited qualified architects to design the stabilization projects. According to Watley, "the Urban Renewal Agency invested in these structures to prevent further deterioration through stabilization and to recruit small business. The strategy was to show investors what is possible with the new streetscape infrastructure. "The $951,000 stabilization work began in November 2019, and  Pine Bluff Economic and Community Development Department helped provide some resources through the Community Development Block Grant fund. Watley added, "It is important to remember that the stabilization project was completed in June of 2020, which was the initial phase of the pandemic. We have been criticized for businesses not occupying the three structures. While the buildings remain empty, it does not reflect our effort or capacity to recruit., The empty structures speak more to the pandemic impact and the ability of people to access capital (even with an incentive). It also is a result of people with capital not willing to invest in the market.  We continue working each day recruiting businesses to the space, and that work will eventually bring about life."
One of the major projects proposed was a downtown square. Watley says that Luoni advised that most squares are surrounded by functional spaces such as apartments, office buildings, and public facilities, whereby people that frequent those places will engage in the downtown square. As part of an earlier partnership, Pine Bluff Urban Renewal worked with Pine Bluff Economic and Community Development to complete the plaza on 6th and Main.
Taggart and Watley saw that as an opportunity to expand the plaza as a downtown square. We found that many of our local citizens have all the talent in the world but need access to capital. We envisioned 6th and Main as an opportunity to not only provide the public with restaurants and retail options but in connection with the UAPB incubator, use the space as a start-up food hall and retail space. Go Forward Pine Bluff received a $12,500 placemaking grant from Rural LISC to hire Taggart Architects (Unrelated to Maurice Taggart). The North Little Rock firm is known for developing Argenta Square in the same city.   In October of 2020, Taggart Architects presented the project.
City Council Delays
The Pine Bluff City Council passed Resolution 4079 in March of 2018, outlining the administrative process for the evaluation of proposals and projects seeking funding from the sales tax. Known as the Public-Private Review Committee, it consists of Mayor Washington, Councilmember Glen Brown Jr, Jeannie Epperson to represent the public and Tommy May, Mary Pringos, and Eric Walden to represent the private. The process is as follows: Watley presents proposals to the committee. The committee evaluates the proposal based on whether it aligns with the redevelopment of Pine Bluff according to the citizens' plan, the availability of funds, and the legality of the spending. If the evaluation is approved, the project is forwarded for action to the public (The City Council) or private (Go Forward Pine Bluff) entity with jurisdiction over the subject matter.
Watley presented the 6th and Main Project for retail and restaurants to the Public-Private Review Committee in May of 2021, and it was approved to be sent to the Council. However, when presented, the project was put on pause due to Council Member Bruce Lockett offering legislation to form a Downtown Collaborative so the various groups executing projects could communicate. The collaborative met on three occasions and has yet to meet since.
Taggart Resigns
On September 15, 2021, Taggart wrote to the commission, "please accept this correspondence as my official notice of resignation from the position of Executive Director for the Pine Bluff Urban Renewal Agency (hereinafter "URA"), effective September 30, 2021. I have decided to take on a role in the private sector which will prevent me from giving the full attention necessary to complete many of our ongoing projects to completion. The decision to resign was difficult, but after careful consideration, I know it is in the best interest of my family and the URA". At the time, Taggart was praised for his contributions, and Griffin was shortly appointed Interim director.
Griffin, new to the role, worked closely with Watley to understand the construction projects and  funding.
More Council Delay
During the 2022 budget preparation hearings, Watley attempted again to obtain funding for the 6th and Main expansion project but was met with a delay. Finance Director Steve Miller retired before the 2021 budget preparation period, so the City Council contracted with Bill Moss and George Stepps as consultants to assist. Moss and Stepps recommendations were to pass the general fund separately and apart from the sales tax budget. However, the Council passed a single budget, yet the funds Watley requested were placed in a line item called the Downtown District project fund for projects coming from the downtown collaborative meetings.
In March of 2022, Watley requested a Development and Planning Committee meeting with Lockett for the 6th and Main expansion project to be reviewed and considered at the council meeting. However, Lockett refused to call a meeting. Watley appeared before the next council meeting, explaining that he had performed all the requirements from the collaborative and presented budget items to the full Council. Former Councilwoman Joni Alexander asked Watley why was the Council not provided this detail prior to the meeting? Once Watley explained that Lockett refused to have a meeting, Alexander voted to support the information presented, and the $6 million was released to the Urban Renewal Agency for this project and the Go Kart Track.
Construction Projects
For the remainder of 2022, Griffin and Watley worked to get all project construction documents finalized with a guaranteed maximum price. However, the original pricing estimates were no longer valid and had increased by as much as 40%. Griffin said the 6th and Main project was initially quoted in 2021 at $6.5 million. However, that price is now being quoted at $9.3 million. We eventually decided to only do the project from Main to State St., which was aligned with funding available for the projects.
Further, the Delta Rhythm and Bayous proposal contained an amphitheater, and therefore it was no need for the 6th and Main project to consist of such. Preparation of construction documents and procurement lasted the remainder of 2022. The final documents were signed in early 2023, and subcontractors were on site May 8, 2023.
Investors bring investment
Executive Director Chandra Griffin has been working with various partners to bring about downtown housing. "The Re-Live Downtown Master Plan and Vision has won three competitive awards for urban design. I know the housing plan will spur business to support the residents" said Griffin. After several attempts at recruiting and entertaining investors, Griffin and Watley earned a breakthrough when Pines 1 Development LLC issued a letter to The Pine Bluff Urban Renewal Agency stating they had reserved 24 million in liquid capital to invest in Pine Bluff.
Kelly Eubanks, the managing partner with Kee Concrete and Construction, has been in construction for over 25 years. Eubanks is the product of three generations of family born and raised in Pine Bluff, and she has always viewed Pine Bluff as a place with unlimited potential."
Eubanks began conversations with Mayor Washington, Griffin, and Watley in 2021 for the right entry point into Pine Bluff and what's the right project to come to Pine Bluff.
While our goal is to complete the 75-unit apartment subdivision between Pine and Walnut, the proposed three-story 26 unit development on 6th and Convention Center allows a safe entry point for Ms. Eubanks and her team into the Pine Bluff market, according to Mayor Shirley Washington.
The Pine Bluff Urban Renewal Agency signed a development agreement in February of 2023, and construction is expected to begin by September of this year.
Urban Renewal Misappropriation
In May of 2022, The Pine Bluff City Council expressed concerns about outstanding liens that needed to be filed on condemned and razed properties. This discussion prompted Mayor Washington to ask Griffin for an accounting of the dollars spent. While searching through old invoices, she found multiple invoices from the RM Group LLC that had been paid in full. During her time with the agency, Griffin had yet to encounter this company. Upon discovery of the invoices she was heartbroken, but she immediately met with Mayor Washington. A year after reporting the findings, Prosecuting Attorney Kyle Hunter had sufficient evidence to charge Maurice Taggart and Roderick Morris.
Turning the Page
Now that The Urban Renewal Agency understands how its internal controls were violated, The Agency is adding dual controls and review processes for contractor and supplier accounts. According to Chandra Griffin, "the work ahead is more than enough to begin turning the page from this unfortunate situation. Currently, the 6th and Main St. project is under construction, construction documents are in process for the Go Kart Track, Urban Renewal has re-issued the bid for contractors concerning building single-family residences and the Development agreement has been signed for construction of new downtown apartments. I am eager to get back to the business of revitalizing Pine Bluff."
Timeline
January 2017 – Go Forward Pine Bluff plan is released, includes a plan for Urban Renewal Agency
March 2017 – Arkansas General Assembly passes bill authorizing municipal urban renewal agencies that have ceased operation to be revived by a vote of a city council
June 2017 –  Go Forward Pine Bluff passes tax
August 2017 – City Council unanimously votes to activate the dormant urban renewal agency
August 2017 – Go Forward Pine Bluff contracts with the University of Arkansas Community Design Center to develop a downtown master plan and vision.
October 2017 – Mayor Washington appoints Jimmy Dill, Rita Conley, Travis Martin, and Lloyd Franklin Sr. to the Urban Renewal Agency Commission
March 2018 – Brad Williams accepts the executive director position with Urban Renewal Agency. The Agency withdrew its offer after Williams stopped responding to messages.
April -May 2018 – Urban Renewal Agency, Pine Bluff Economic and Community Development, and Go Forward Pine Bluff hold four community meetings to gather public input on the agency's urban renewal plan.
May 2018 – City Council votes to approve urban renewal plan for central Pine Bluff
May 2018 – Leonard Williams Jr. accepts the executive director job with Urban Renewal Agency and resigns a week later.
August 2018 – Maurice Taggart hired as Executive Director
September 2018 – The agency purchases demolition equipment and tears down the first condemned houses.
December 2018 – Release of Re-Live Downtown Master Plan to the Public
January 2019 – Urban Renewal Adopts Re-Live Downtown Masterplan
May 2019 – Attorney Althea Hadden Scott's opinion ceases demolition by Urban Renewal
November 2019 – Attorney General Leslie Rutledge states that Urban Renewal can raze properties with cooperative arrangements with the city.
November 2019 – Construction begins on 316, 322, and 324 Main St.
December 2019 – Cooperative agreement is approved.
Plaza Hotel acquired.
March 2020 Global Pandemic reaches Arkansas.
June 2020 – 316, 322, and 324 Main construction is complete.
September 2020 – GFPB contracts Taggart Architects of North Little Rock to Develop 6th and Main St. retail and restaurant expansion concept and feasibility.
December 2020 – Purchase of Admiral Benbow
April 2021 ¬– Taggart Architects of North Little Rock presents 6th and Main St. retail and restaurant expansion concept to the public
September 2021 Taggart Resigns, Griffin tabbed interim Director
March 2022 – City Council releases $6M for Urban Renewal Projects, including the 6th and Main expansion
March 2022 – Urban Renewal contracts with Taggart Architects to develop 6th and Main Retail and Restaurant District Construction Documents
May 2022 – Griffin notices suspicious payments to RM Group LLC, Griffin, and Watley report their suspicions to Mayor Washington
February – 2023 Admiral Benbow Demolition Complete
Development agreement signed with Pines 1 Development for construction of     apartments
May 2023 – Go Kart Construction Contract Signed
May 2023 – Charges filed against Maurice Taggart and Roderick Morris