From the Desk of Your AD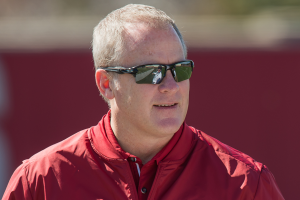 To Be The Best
That is our mission. And last week when our cross country teams stepped to the starting line at the initial Southeastern Conference championships of the athletics year, the goal was simple. And like so many times before, at the end of the day, Arkansas was standing atop the awards stand.
After placing five runners in the top 10, our women's cross country team captured its sixth straight SEC cross country title, the most consecutive titles in conference history. Since joining the SEC, Coach Lance Harter has led our women's program to 19 SEC cross country crowns, more than all other SEC programs combined in that tenure.
On the men's side, Gilbert Boit paced the field on his way to an individual conference championship. Boit became the fifth Razorback in the past eight seasons to win the individual title. Boit was one of three Razorbacks to finish in the top 10 as the team earned conference runner-up honors.
Best of luck to both programs as they prepare for the NCAA South Central Regional in College Station, Texas on Friday, November 9 and the NCAA Cross Country Championships in Madison, Wisconsin on Saturday, November 17.
Battle for the Golden Boot
As we hit the first of November and an open date on our football schedule, it is a great opportunity for me to thank Razorback fans for their support this football season. From the fans that have attended multiple early kickoffs in Fayetteville to the hearty crowd in less than ideal weather conditions in Little Rock, all of us associated with the Razorback football program sincerely appreciate those who continue to support our student-athletes. Your passion helps set us apart.
I want to encourage the Razorback nation to converge once again to cheer on our football team in its final home game of the season against LSU on November 10 in Fayetteville. The annual Battle for the Golden Boot has become one of the signature games in our time in the SEC. It is also an opportunity to thank our seniors. While game time has not yet been set, please make plans to Call the Hogs with us at Donald W. Reynolds Razorback Stadium for the final home game of the season.
Hooping it Up at the Bud
While we wrap up the home schedule in football, we have just begun the home slate for men's and women's basketball. Both the men's and women's teams have exhibition games at home this weekend with the women playing on Thursday night and the men taking the court on Friday night.
On Friday, November 9, both the men's and women's program begin their regular seasons. Coach Mike Neighbors and his squad will host Northwestern State at 10:30 a.m. in the annual Elementary Day. It is a great outreach to the community and a lot of fun.
Coach Mike Anderson and the men's squad will open the regular season against Texas at the Armed Forces Classic, in a game to be held at the Fort Bliss Army Base in Texas. We are honored to be playing in this event dedicated to the men and women who are serving in our military. It is just a small way we can say thank you for their service.
There is plenty more exciting basketball to catch at Bud Walton Arena. I invite you to check out the schedules below and plan on joining us at the Basketball Palace of Mid-America!
On the Road with the Razorbacks
One of the things that I love to do as the director of athletics is to travel with our sport programs on a road trip during the season. It is a great time for me to connect with our student-athletes, coaches and staff and an opportunity to see the challenges our student-athletes face in balancing the time demands that are required to have success both academically and athletically in the SEC.
I recently had the opportunity to travel with our volleyball team to Starkville, Mississippi. I was amazed at the preparation our student-athletes engaged in upon our arrival on Tuesday night that began with an extensive film review and scouting report at the hotel followed by a spirited practice at Mississippi State's volleyball facility. Wednesday morning was filled with more scouting and film, a serve and volley practice and an excellent pregame meal later in the day prior to our arrival back on campus. The preparation paid off and a special trip was made even more special as we swept three straight sets to get a quality road win in league play.
Mark Your Calendars
Be sure to tune into the SEC Network at Noon tomorrow (changed due to weather) as we play Florida in the semifinals of the 2018 SEC Women's Soccer Tournament. We are coming off a dominating 4-0 win over Ole Miss on Tuesday in the quarterfinals and will face the Gators for a chance to return to the SEC Championship Game for the third-straight season.
This afternoon, we announced a future non-conference football series with Brigham Young University (BYU). We will travel to Provo, Utah for a game in 2022 (October 15, 2022) before BYU returns to Fayetteville in 2023 (September 23, 2023).
Couple of Other Tidbits
This month we will be presenting to the Board of Trustees our recommendation for the next steps on three facilities impacting our baseball and men's and women's track and field programs. As with all of our facilities and operations, the Baum Stadium Baseball Clubhouse, the Randal Tyson Track Center Expansion and the John McDonnell Field High Performance Center will be financed without the use of state or university funds or any student fees. In the coming weeks, we hope to have more exciting news to announce regarding these projects.
Last month while a majority of students at the University of Arkansas enjoyed a few days off for Fall Break, a group of Razorback student-athletes took advantage of an opportunity to gain some career experience with our Razorbacks at Work program. A total of 15 student-athletes, including eight from our football program, shadowed various professionals around Northwest Arkansas to learn more about law enforcement, investment banking, pediatric counseling, occupational therapy and several other vocations. It is all part of our mission of Building Champions and Razorbacks for Life.
Snout Outs
Before we wrap up this edition of From the Desk of Your AD, I want to offer some congratulations to some former Razorbacks who have made some news recently.
Congratulations to our Golden Spikes and SEC Player of the Year Award winner Andrew Benintendi for capturing his first World Series crown with the Boston Red Sox. With his exceptional play throughout the playoffs, Andrew made the entire Razorback nation proud. He became the fourth former Razorback to win a World Series joining Dick Hughes, Eric Hinske and Dallas Keuchel.
First, she was an NCAA champion, then she was the LPGA Player of the Year, but now Razorback great Stacy Lewis can add mom to that list. A week ago, Stacy and her husband Gerrod Chadwell, the golf coach at the University of Houston, welcomed their first child, a daughter, Chesnee Lynn Chadwell to the world. Congratulations to Stacy and Gerrod!
Congratulations to Razorback Baseball head coach Dave Van Horn. Coach Van Horn is being honored this evening in Little Rock as the 2018 Leader of the Year by the Boys and Girls Club of Central Arkansas. Not only is Coach Van Horn the best college baseball coach in the nation, he is an outstanding leader of young men and dedicated to our state.
Thank you again for your continued support of our program and our student-athletes. Hope to see you on campus soon for the many exciting events ahead.
Go Hogs!
BY Hunter Yurachek