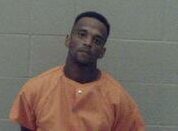 By Ray King
A $5,000 cash-only bond was set Thursday for a Pine Bluff man currently on probation on a drug-related charge.
Jefferson County District Judge Kim Bridgforth set the bond after ruling prosecutors have probable cause to charge Stancio Shelton, 32, with possession of a controlled substance with the purpose to deliver.
Reading from a probable cause affidavit from Tri-County Drug Task Force Investigator Joseph O'Neal, Deputy Prosecutor Beth Carson said investigators were in the area of Ridgway Road and Hazel Street Tuesday at about 10 p.m. when they saw a green Nissan traveling north at a high rate of speed. The vehicle was driven by a female and Shelton was a passenger.
The driver told investigators she was sorry for speeding and a check with the Arkansas Crime Information Center and National Crime Information Center showed that Shelton was an active probationer with a search warrant waiver on file and an active warrant from Little Rock.
The Public Defender's Office was appointed to represent Shelton and he was told to come back to court Aug. 5.