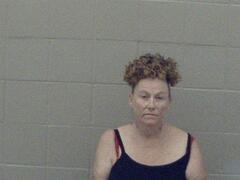 By Ray King
A $5,000 bond was set Thursday for a Pine Bluff woman who attempted to cash a fraudulent check Wednesday, and when she was searched, suspected methamphetamine was found under the seat of the vehicle she was riding in.
Jefferson County District Judge Kim Bridgforth set the bond after ruling prosecutors have probable cause to charge Tammy Teeples, 49, with theft by receiving, forgery, possession of methamphetamine and possession of drug paraphernalia.
Teeples was arrested after White Hall Police were sent to Relyance Bank at 1:40 p.m. where a person later identified as Teeples was attempting to cash a fraudulent check for $300.
Deputy Prosecutor Brittaney Akel said Teeples was in a vehicle driven by another female who said she had picked Teeples up at a gas station and driven her to the bank and didn't know anything about the check. The driver also gave police permission to search the vehicle and officers found a black sock under the passenger seat that contained a pipe with a white residue that field tested positive for methamphetamine.
Investigator Ryan Edwards reported that police also found a notebook that contained two other checks similar to the one Teeples was attempting to cash.
The Public Defender's Office was appointed to represent Teeples and she was told to come back to court Oct. 4.