Arkansas Shuts Down Long-Distance Attack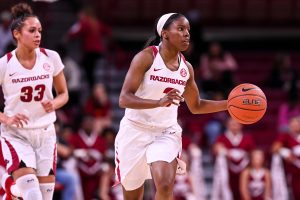 FAYETTEVILLE, Ark. – The University of Arkansas women's basketball team picked up it's fifth win of the season behind three players in double figures with a 74-61 victory over Oral Roberts in Bud Walton Arena on Wednesday.
The Razorbacks (5-2) opened the game on a 9-0 run holding ORU (3-4) without a basket until the 6:25 mark of the first quarter. Arkansas went 4-for-6 with one 3-point field goal taking a lead they would not surrender. The Razorbacks lead by as many as 17 points with 2:10 to play in the first half before taking a 15-point, 38-23, advantage into the locker room at the break.
ORU's offense came to life in the second half with the Golden Eagles outscoring Arkansas in the final frame. Arkansas, however, was able to hold ORU to just five made 3-point field goals, well below their season-average of nearly 10 makes from distance per contest.
Redshirt sophomore Chelsea Dungee scored 21 points, her third game with 20+ this season, and went 7-for-7 from the free throw line. Dungee paced Arkansas to its best performance of the year from the charity stripe as the Razorbacks hit 24-of-29 attempts.
Junior Jailyn Mason had a season-high 17 points with five field goals and a 7-for-8 night at the line while senior Malica Monk was in double digits for the sixth time this year with 12 points. Junior Kiara Williams led Arkansas on the boards grabbing 11 rebounds.
Notes
•Arkansas Starters: Alexis Tolefree, Malica Monk, Kiara Williams, Jailyn Mason, Chelsea Dungee.
•Series Record: Arkansas leads 21-9 and is 16-2 in Fayetteville.
•Arkansas held ORU to 11 first quarter points – a season low for an opponent this year.
•Arkansas' 15-point halftime lead (38-23) is the second-best of the season.
•The Razorbacks forced ORU into 12 first half turnovers. Arkansas' opponents have had double-digit miscues in every game this season. ORU finished with 19 turnovers in the game.
•Chelsea Dungee has scored in double figures in every game this year. Dungee has posted 20+ points three times this season.
•Malica Monk has had double-digits six times and Jailyn Mason three times.
•Arkansas has more made free throws than its opponent in five games and has tied opponents once.
•Tonight's 18-15 third quarter performance is just the third time Arkansas has outscored opponents in that period.
•ORU entered the game averaging 9.7 made 3-point field goals per game. They made just five in the game.
•Kiara Williams had double figure rebounds for the second time this season.
BY Jeri Thorpe