Arkansas Jumps Into Rankings After Recent Run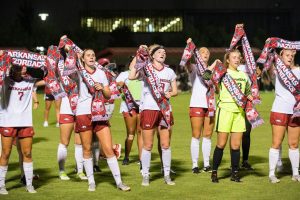 FAYETTEVILLE, Ark. – After its fourth unbeaten weekend in SEC play and earning its fourth result against a ranked team this season, the Razorback soccer team has jumped into the national rankings at No. 22, according to TopDrawerSoccer.com.
Arkansas (11-3-3, 6-2-1 SEC) has been hovering around the Top 25 all year long, but with ties against then No. 9 West Virginia and No. 25 Mississippi State, as well as wins over No. 2 Texas A&M and No. 21 Auburn, it couldn't be held back any longer. The four results over Top-25 teams is the most for any team in the SEC.
"I like this team," Arkansas head coach Colby Hale said. "This is well deserved by our players. We know we have a lot to work on, but I like this team and this group. We have more top-25 results than any other SEC team and our best soccer is ahead of us."
The Razorbacks are also the highest non-ranked team receiving votes in the United Soccer Coaches' Poll, but have not been able to crack the Top 25 of that poll yet. They have been receiving votes in each of the last three weeks.
Arkansas just completed an unbeaten home regular-season record for the first time in program history after defeating Auburn on Sunday, 3-1. At 9-0-1 at Razorback Field, the Razorbacks have scored 78 percent of their season's goals at home and are outscoring their opponents, 25-9 in those matches.
Offensively, the Razorbacks have four players with 10 or more points with Kayla McKeon and Tori Cannata leading the team with seven goals and 16 points each. Sophomore Taylor Malham has quietly put together another strong season as she leads the team with eight assists, which ties for most in the league.
Defensively, Arkansas has racked up six shutouts, its most recent coming on the road at No. 25 Mississippi State in a scoreless draw. Goalkeeper Taylor Beitz made a career-high 11 saves in that match has generated a 0.82 goals against average, which is fifth-best in the SEC.
Up Next
Arkansas will go on the road for its final match of the regular season when it travels to Gainesville, Florida to take on the Florida Gators. First kick is set for 5:30 p.m. CT and will be televised online on SEC Network+.
For more information on Razorback Soccer, follow @RazorbackSoccer on Twitter.
Top Drawer Soccer – Week 10 Poll
| | | |
| --- | --- | --- |
| Rank | School | 2018 Record |
| 1. | Stanford | 14-0-1 |
| 2. | North Carolina | 14-2-1 |
| 3. | Southern Cal | 14-1-1 |
| 4. | Georgetown | 15-0-2 |
| 5. | UCLA | 11-3-1 |
| 6. | Duke | 13-2-2 |
| 7. | Vanderbilt | 15-1-1 |
| 8. | Santa Clara | 14-2-1 |
| 9. | Virginia | 13-3-0 |
| 10. | South Carolina | 12-3-1 |
| 11. | Tennessee | 12-2-2 |
| 12. | Texas | 13-2-2 |
| 13. | Texas A&M | 14-3-1 |
| 14. | South Florida | 12-2-0 |
| 15. | Florida State | 12-3-2 |
| 16. | Princeton | 9-3-2 |
| 17. | Baylor | 14-4-0 |
| 18. | Memphis | 14-3-0 |
| 19. | West Virginia | 11-3-3 |
| 20. | Boston College | 13-3-1 |
| 21. | Colorado | 13-1-3 |
| 22. | Arkansas | 11-3-3 |
| 23. | Penn State | 13-5-0 |
| 24. | North Texas | 12-1-2 |
| 25. | TCU | 11-4-2 |