5 Port City Speed Young Athletes Qualify to Compete in the 2022 AAU Junior Olympics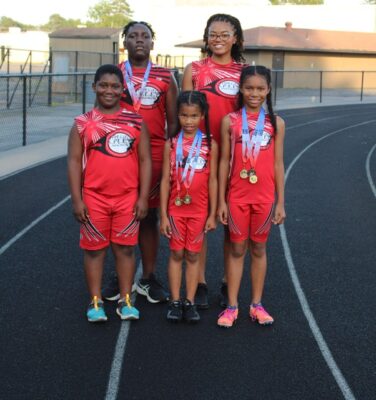 On June 24, 2022 16 athletes from the Port City SPEED AAU Track and Field club traveled to Carl Junction, MO to participate in the Region 16 multi-state competitions. They were joined by over 2600 boys and girls ranging in ages 6-18 from across the states of Arkansas, Missouri, Kansas, and Oklahoma. After 2.5 days of blistering heat and competition just as hot, five of the PCS athletes earned the right to compete in the 2022 AAU Junior Olympic Games. This national competition is slated for August 1-6, 2022 in Greensboro, NC.
Leading the pack is 8 year old Eden Thomas who competing for the first time in AAU qualified in the 1500m Run and 800m Run. Her dreams were almost ruined when a competing athlete stepped on her foot only 300m into the 1500m run causing her to loose both her shoes. With a lot of heart and determination Eden managed to complete the remaining 1200m in her socks to place 6th in the 8 & under category for girls. Her sister Xristi Thomas earned a bronze medal (third place) in the 800m run and 6th in the 9year old girls' race of the 1500m Run. She will compete in both these events at the Junior Olympics. Nina Wade a rising senior at Pine Bluff High School will compete in Greensboro in the 17-18 year old girls High Jump after placing 6th at the Regional competition. On the male side of the team 12 year old Derrick Johnson placed 4th in both the Discus and Shot Put and his counterpart 12 year old Josiah Harrison will also compete in the Discus throw after placing 5th in that event.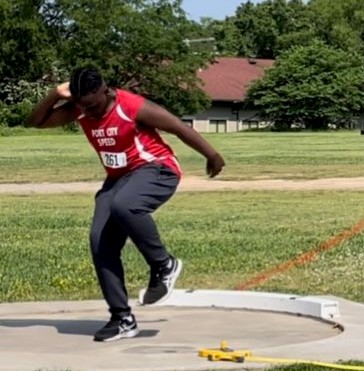 Head Coach Martin Richards stated that he is very proud of these athletes as most of them had never seen AAU competition before. Port City SPEED was established in August 2002 and has trained over 600 athletes from Pine Bluff and surrounding areas for national competition. The team has represented at the AAU Junior Olympics every year of its existence except 2020 and 2021 when training was interrupted by the pandemic.
special thanks to Kathy Richards