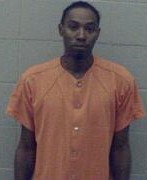 By Ray King
A $100,000 bond was set Monday for a Pine Bluff man accused of being involved in a shooting incident on July 29 hours before the alleged victim was killed in a separate shooting.
Jefferson County District Judge Kim Bridgforth set the bond after ruling prosecutors have probable cause to charge Christian Lyons, 37, of White Hall with aggravated assault.
During a court hearing Monday, Deputy Prosecutor Shana Alexander said about 1 p.m., police responded to the area of 8th Avenue and Myrtle Street in response to a reported shooting but no one, including the later victim Christopher Harris would provide any information about that shooting.
Alexander said police conducted a traffic stop on the vehicle which contained Lyons and found a loaded handgun, an empty magazine and loose shells. When Lyons was questioned, he admitted he was in the area but denied any involvement in the incident.
He said he would hire his own attorney and was told to come back to court Sept. 22.