UAPB volleyball secures 2 of 4 weekly SWAC Volleyball awards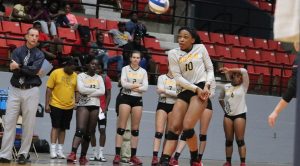 UAPB outside hitter Kendalle Howard is this week's SWAC Volleyball Offensive Player of the Week.
BIRMINGHAM, Ala. – 
The Southwestern Athletic Conference has recognized UAPB's
Kendalle Howard
and
Haley Gomez
, Alabama State's Kori Kutsch, Jackson State's Markayisha Masani and Texas Southern's Nia Stone as volleyball players of the week for contests played from Oct. 16-21.
SWAC Offensive Player of the Week – Howard put down 74 total kills and 55 digs in five matches at the SWAC East Volleyball Roundup, highlighted by a season-high 21 kills and 22 digs versus Mississippi Valley State. She added eight aces and five blocks The 5-8 junior from Round Rock, Texas cleared double-digit kills on four occasions during the five-match stretch, coming up one kill shy versus Jackson State. Howard is averaging 14+ kills a night over her past seven matches.
SWAC Newcomer of the Week – Gomez picked up her second Newcomer of the Week award of the season after tallying 59 kills, 51 digs, 12 blocks, five assists and four service aces during UAPB's five matches at the East Volleyball Roundup. Gomez hit at a .210 clip over the course of the weekend, adding three double-digit kill matches. Gomez put down 15 kills against Jackson State and replicated the effort versus Alabama State as well. Additionally, she recorded a 13-kill, 22-dig double-double versus Mississippi Valley State.
courtesy of www.swac.org