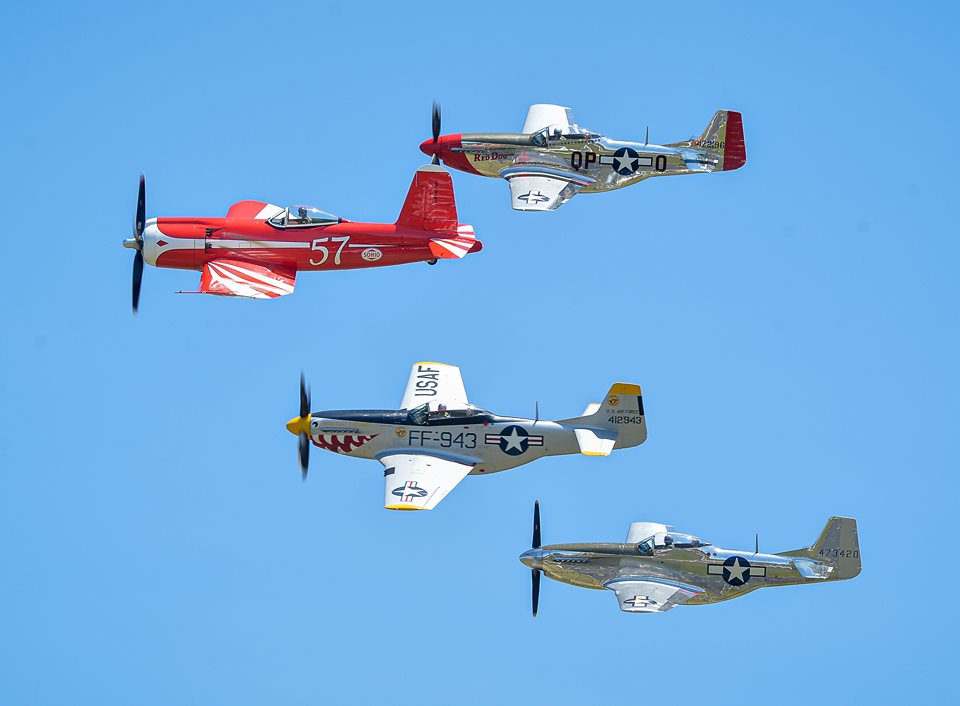 A team of pilots, including Steuart Walton, chairman of the Arkansas Economic Recovery Task Force, embarked on a 15-city flyover on Saturday in a fleet of World War II era aircraft to pay respect to those who died from COVID-19 and to show support for frontline heroes in healthcare and first responders.
The flyover tour, touted as the COVID-19 Economic Recovery Arkansas Flyover, included a flyover of Pine Bluff and a stop at Pine Bluff's Grider Field.
With a crowd of approximately 50-75 people on hand the planes conducted two passes in front of the crowd before landing for lunch and refueling. Walton and his fellow pilots were greeted by Pine Bluff Mayor Shirley Washington, Pine Bluff Police Chief Kelvin Sergeant, and Pine Bluff Fire and Emergency Services Chief Shauwn Howell before Walton spoke with the crowd before he and his fellow pilots went inside of the airport for lunch.
Walton also spoke exclusively with DeltaplexNews.com about the flyover and more.
"It's a beautiful day first off with a light wind and lots of sun, and it was great seeing the fire department. They brought a truck out, which is always nice to see," Walton said. "It was a bigger crowd than we were expecting, and that's just fantastic. That always makes you feel like what you are doing is appreciated and like you are also noticed, and that is what we are here to do, to try to bring attention to bring the state together and recognizing the front line workers, the first responders, and the medical folks here in Arkansas for their fight against the COVID-19."
Walton named his flight crew, and the planes each of them flew across the state Saturday.
"I'm flying a F2G-1 Super Corsair. It is a big red painted plane painted in the paint scheme that it flew in the 1947 Cleveland air race," said Walton. "The other three planes that are flying with us are P51 Mustangs, and they are each flown, one by retired Major General Tommy Williams, a Chief Pilot with US Heritage Flight. Tommy is out of Ft. Worth, Texas. Andrew McKenna out of Washington D.C. area is also flying one of the P51's. He is also with the Heritage Flight. Then Edward Sister from the U.K., but lives in Bentonville. He is flying the other P51."
Before landing at Grider Field Walton and his team were able to do a flyover of Jefferson Regional hospital in Pine Bluff.
"We have hit several hospitals today," Walton said. "We hit Arkansas Children's Hospital in Little Rock, UAMS in Little Rock, Southern Arkansas Medical Center in El Dorado, hospitals in Northwest Arkansas like Mercy and Arkansas Children's Northwest."
Walton is who came up with the idea for the flyover of the state, and said he decided to try to put the team together after a friend was involved in a flyover in New York.
"I've got a friend in New York who sent me an image of a flier for a flyover they did up there," Walton said. "He said is jazzed everybody up. They have been on lockdown for a better part of two months now. But, that kind of got me to thinking what could we do in Arkansas that kind of brings the state together and gets people excited and out to the airport, maybe."
"I started calling a few friends and trying to get some folks together who could bring the foreship together and travel around the state," Walton continued. "We totally recognize that we haven't been hit as hard as New York, but that's not to say that a lot of people aren't in their homes – certainly those at risk and in nursing homes. They just haven't seen a lot of each other lately. So, this idea and this opportunity to create a shared experience and bring people together socially distanced seemed like a good idea, and it fell into place."
Walton is on the Arkansas Economic Recovery Task Force, which is helping to restart business in the Natural State after so many businesses were shut down due to the COVID-19 crisis. He has spoken at press conferences held by Governor Asa Hutchinson, and is working closely with the Governor in the restarting process. He said he believes the Governor is working hard to make sure things are done the right way.
"I've got a tremendous amount of respect for the way the Governor has taken this challenge on," Walton said. "He's working seven days a week, and harder than I think most people realize with his attention to keeping the state safe. I think he has done a good job. When you look at the numbers across the state and the impact the virus is having here, we are doing really good on a relative basis with the other surrounding states. On an absolute basis we've been able to open up, not timidly, but cautiously and appropriately because this virus is pretty bad news."
Walton said while Arkansas has taken some important steps to reopen, there will be more to come.
"We've taken some important steps to get things started with more to come," Walton said. "The trajectory is looking pretty good, and it is an honor for me to be able to help the state of Arkansas to try to mitigate the damage economically from this crisis, and I think we are going to come out of it strong. I really do."
VIDEO OF THE TEAM PREPARING TO LAND AT GRIDER FIELD