By Ray King
A Pine Bluff woman was arrested Sunday after she kicked and bit police officers who had responded to a reported disturbance at a house in the 1800 block of S. Amis Street.
Anglia Obasade, 31, will have to post a $2,500 bond to be released from the adult detention center after Jefferson County District Judge Kim Bridgforth ruled Tuesday prosecutors have probable cause to charge Obasade with assault on a police officer.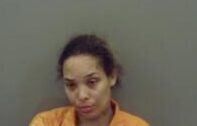 Deputy Prosecutor Caleb Conrad said when officers arrived at the reported disturbance, they saw a male talking to Obasade, who was yelling and cursing. Obasade had lacerations on her right thigh and knee and said the male had cut her but the male had a different story.
Detective Corey Wilfong reported that when officers entered the house, Obasade was sitting on the floor holding her phone and when told she was under arrest, she resisted and kicked one of the officers.
Obasade said she would hire her own attorney and was told to come back to court on May 20.