By Ray King
A Pine Bluff woman was arrested Sunday after she allegedly pulled a knife on two people and threatened to kill them.
Taelor Gonder, 23, was taken into custody after an officer was sent to a house in the 3400 block of South Tennessee Street in response to a reported disturbance.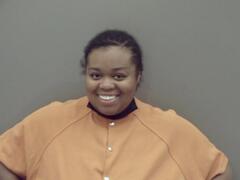 During a court hearing Monday, Deputy Prosecutor Jay Gerard described what the officer was told.
Detective Keith Banks reported that the victim's boyfriend gave police a statement that was similar to the statement given by the victim and said the knife was a butcher knife.
Jefferson County District Judge Kim Bridgforth set a $2,500 bond for Gonder after ruling prosecutors have probable cause to charge her with terroristic threatening.
Gonder was ordered to have no contact with the victims and said she would hire her own attorney.