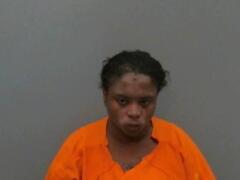 By Ray King
A Pine Bluff woman was arrested Wednesday after she allegedly cut the hand of a man who she said is the father of her children.
Lanisha Smith, 34, also allegedly held a knife to the man's throat, resulting in a scratch across his neck, Detective Keith Banks said in a probable cause affidavit that was presented in district court Thursday.
Reading from that affidavit, Deputy Prosecutor Beth Carson said an officer was sent to a house on Mosley Street Wednesday afternoon in response to a reported domestic disturbance. The alleged victim said Smith, who he described as his girlfriend had pulled a knife on him, then cut his right hand.
Smith was arrested at the scene and taken to the adult detention center. When she was interviewed, she said she and the victim had lived together for eight years and he was the father of her children. She said the two argued because he had cheated on her.
Jefferson County District Judge Kim Bridgforth set a $5,000 bond for Smith Thursday after ruling prosecutors have probable cause to charge her with aggravated assault on a family or household member. The Public Defender's Office was appointed to represent Smith who was ordered to have no contact with the victim until the case is settled.