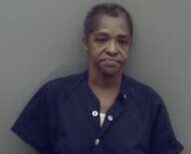 By Ray King
A Pine Bluff woman was arrested Monday because she allegedly threatened to kill her boyfriend after an argument.
Jacqueline Wesley, 58, was taken into custody and when questioned, denied the allegation, Deputy Prosecutor Caleb Conrad said during a court hearing Tuesday.
Reading from an affidavit from Detective Chris Wieland, Conrad told the court what the alleged victim said to officers.
According to Conrad, Wesley told police she had gone to her boyfriend's room to spend time with him for her birthday, the two argued, and then she left. She said she did not have anything in her hand during the argument.
Conrad said there was corroborating evidence in the report narrative from Officer Brandon Blake supporting the victim's statement, including that Wesley had two screwdrivers and a kitchen knife on her person when she was arrested.
Pine Bluff District Judge John Kearney set a $2,500 bond for Wesley after ruling prosecutors have probable cause to charge her with aggravated assault on a family or household member. Wesley was ordered to have no contact with the victim until the case is settled.