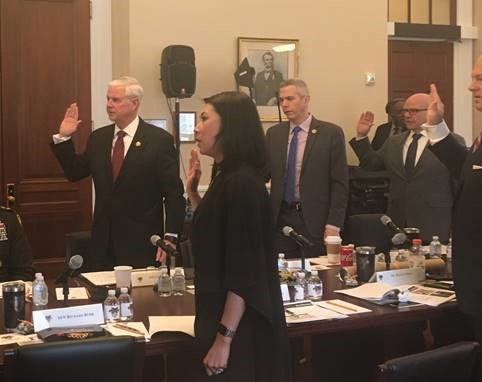 Washington, DC—February 26, 2020….Congressman Steve Womack (AR-3) today hosted the Superintendent of the U.S. Military Academy (USMA), Lieutenant General Darryl Williams, Army leadership, cadets, and other members of the West Point Board of Visitors (BOV) for its quarterly meeting. During the event, attendees discussed academy updates and unanimously re-elected Womack to serve a fourth term as Chairman of the BOV.
Congressman Womack said, "West Point has built the Long Gray Line of defenders who have helped secure our nation for generations. It's an extraordinary privilege to help guide this preeminent leadership institution, and the young men and women who are driven by a call to serve. My focus as Chairman remains preparing these elite cadets to protect freedom and execute their mission of Duty, Honor, Country."
Board members received briefings on West Point's academic, physical, and military priorities. Faculty and cadets also led discussions on a range of topics, including developing leaders of character, building diverse and effective teams, modernizing readiness capabilities, strengthening partnerships, and the importance of investments in military readiness.
The USMA BOV is charged with providing independent advice and recommendations on institutional matters, including morale and discipline, curriculum, instruction, physical equipment, fiscal affairs, academic methods, and other issues. Womack was first appointed to the BOV in 2012 by Speaker John Boehner and subsequently elected BOV Chairman in 2017. He is currently the only congressional representative from Arkansas to serve on the board.
Congressman Steve Womack (AR-3) has represented Arkansas's Third Congressional District since 2011. He serves as the Ranking Member of the House Committee on the Budget and is a member of the House Appropriations defense and transportation, housing and urban development subcommittees.