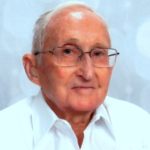 William Puckett, age 93 of Rison, passed away Friday, March 20, 2020.  He was born October 5, 1926 in Rison, Arkansas to the late Fred and Ellen Nixon Puckett.  William retired from the United States Army after serving for 21 years, during his service he served in both Korea and Vietnam. He was a hardworking, honest and kind man who loved flowers, gardening, turkeys and animals but most of all he loved his family.  In addition to his parents, William was preceded in death by his wife of 59 years, Bonnie Wimberly Puckett, son William Tony Puckett, brother Fred James Puckett, Jr., and sister Corinne Winston.
He is survived by his daughter, Heidi Ann Fugitt (Zachary), grandchildren, William Tony Puckett, Jr., Brenton Fugitt, Sasha Fugitt, Callie Fugitt, and a host of nieces and nephews, and also by his sisters, Shirley Dearman and Bonnie Appling.
Graveside services will be 2:00 p.m., Tuesday March 24, 2020, at Macedonia Cemetery in Rison, Ar., with visitation Tuesday morning, from 8:00 a.m. until 1:00 p.m.
Arrangements by Buie Funeral Home of Rison.