Rocky Foster, a sophomore LB, for the Watson Chapel Wildcats has been named the week 1 Kevin Bonnette State Farm Deltaplex Radio  "Jefferson County Football Player of the Week" for his efforts September 6 2019.  Foster had 6 tackles including 4 solo and 2 tackles for a loss in the Wildcats blowout win against Monticello 49-10.  Foster has a nose for the ball and took full advantage of his first ever high school varsity start.
Kevin Bonnette's State Farm is proud to support Jefferson County high school students in their efforts inside and outside the classroom.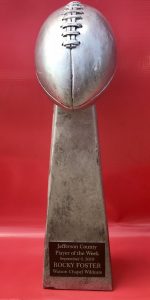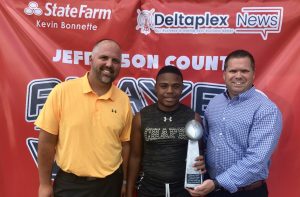 The Wildcats host the Pine Bluff Zebras in a game between Jefferson County rival schools Friday the 13th.
Andrew Mack will have the Saracen Casino Resort live broadcast of Wildcat football at 7 pm.   The Jefferson Regional pregame featuring Coach Dutton will begin at 6:30.  You can also hear the Pine Bluff side of things with Floyd Donald.  Donald will have the Saracen Casino Resort live play by play broadcast of Zebra football at 7 pm. The Jefferson Regional Zebra pregame starts at 6:30.