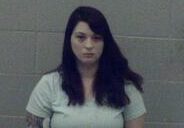 By Ray King
A White Hall woman was arrested Saturday after she allegedly injured her mother during a physical altercation.
Elizabeth Harrison, 28, was taken into custody after police were sent to 9300 Dollarway Road in response to a reported domestic disturbance.
Reading from an affidavit from White Hall Police Investigator Clayton Cantrell, Deputy Prosecutor Beth Carson explained the allegation against Harrison.
Carson said when Harrison was interviewed, she admitted getting into a physical altercation with her mother but was highly intoxicated and doesn't remember choking her.
Pine Bluff District Judge John Kearney set a $10,000 bond for Harrison Wednesday after ruling prosecutors have probable cause to charge her with aggravated assault on a family or household member. She was ordered to have no contact with her mother until the case is settled.