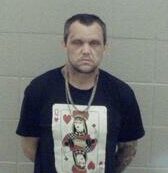 By Ray King
An investigation into a reportedly fraudulent check written on the account of a woman in White Hall in April resulted in the arrest of a Pine Bluff man currently listed as an absconder.
Brandon Glover, 35, will have to post a $15,000 cash-only bond to be released from the adult detention center after a court hearing Friday where Pine Bluff District Judge John Kearney ruled prosecutors have probable cause to charge Glover with forgery.
Reading from a probable cause affidavit from White Hall Police Investigator Clayton Cantrell, Deputy Prosecutor Mirchas King said the victim contacted White Hall Police on April 5 to report that a check for $475 had been cashed on her Simmons Bank account and she said she did not write the check.
King said there also appeared to be more fraudulent activity on eh victim's account.
The Public Defender's Office was appointed to represent Glover and he was told to come back to court Aug. 8.