White Hall Bulldog Alonna Thomas Signs With Williams Baptist University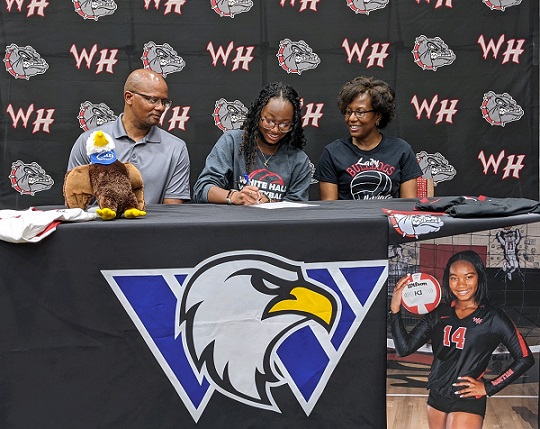 A small crowd gathered in the White Hall High School Library as senior Alonna Thomas signed her national letter of intent to play volleyball at Williams Baptist University in the fall.
The versatile 5'7 130lb outside hitter was able to contribute to the Lady Dogs by racking up 38 kills last season. "Alonna is gonna be a player that I'll miss for not just next season but seasons after this. I call her my super senior , she leads my practices, she's the first in the gym and the last to leave. She really is a servant on and off the court…" said Head Coach Delanie Cooper. "…she can play DS (Defensive Specialist), she can play Middle Back, really anywhere that I want…she'll rise to the challenge." Thomas also amassed 19 aces as an attack server and added several blocks due to her vertical which allowed her to play above the net.
Williams Baptist University, a member of the American Midwest Conference, recently concluded their season falling in the quarterfinal round of the AMC tournament. Head Coach Michelle Lawson is excited to see Thomas play. "…she'll be playing mainly defense for us in the back row and we have three or four that are graduating this year from that position and she's going to help fill a void and we're very excited to have her."