Western Division-Champion Razorbacks Claim Two-Seed In SEC Tournament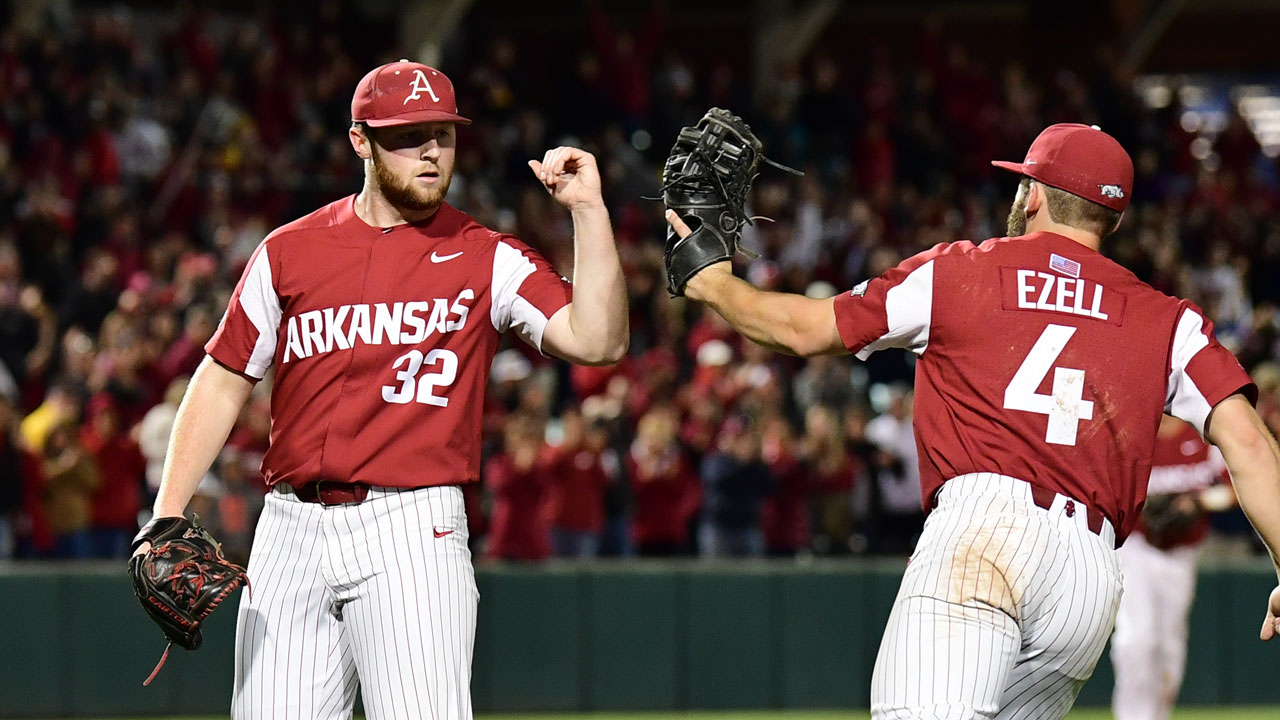 BIRMINGHAM, Ala. — The fourth-ranked Arkansas baseball team claimed its second-straight SEC Western Division title Saturday afternoon as it was named co-champions with Mississippi State with a 20-10 conference record. It's the sixth division title in program history and fifth for head coach Dave Van Horn.
Because of the tiebreaker rules and Arkansas' sweep of Mississippi State earlier in the year, the Hogs will have the No. 2 seed for the 2019 SEC Tournament giving it a bye through Tuesday's first-round games, which are single elimination. The Razorbacks will play the winner of seventh-seeded Ole Miss and 10th-seeded Missouri on Wednesday, May 22 at approximately 1 p.m. at Hoover Metropolitan Stadium.
Arkansas completes the 55-game regular-season schedule with a 40-15 overall record and a 20-10 record in SEC play. It's the first time its won 40 or more games in the regular season since 2010 and the fastest its won 40 games since 1989. The 20 conference wins remain only the second instance in school history that the Razorbacks have won 20 or more games in league play and first under head coach Dave Van Horn.
The Razorbacks won 11 three-game series this season, seven in SEC play, including three sweeps. They also won four of their final five conference series, which includes sweeps over current No. 5 Mississippi State and Tennessee.
Sophomore Matt Goodheart leads the Razorbacks into the tournament, offensively, as he's hitting .352 and he's one of six Razorbacks hitting .300 or higher heading into the postseason. Heston Kjerstad, Casey Martin, Jack Kenley, Dominic Fletcher and Trevor Ezell all are hitting .300 or higher and have 40 or more RBIs. Third-baseman Jacob Nesbit is only hitting .258, but has 41 RBIs, tying for the fifth-highest total on the team.
As much as the offense has helped carry the team to this point, the pitching staff might be peaking at the right time going into the SEC Tournament. Led by redshirt junior right-hander Isaiah Campbell, the Razorback pitching staff has given up two earned runs or less in three of its last four games and struck out 523 batters this year, which ranks sixth in the SEC.
Campbell picked up his 10th win of the season on Thursday, making him one of three pitchers in the conference with 10 or more wins. Campbell is only the second Arkansas pitcher in the last six years to win 10 or more games in a season and he's three strikeouts away from topping 100 for the year. He has 10 quality starts in his last 11 outings and has yet to give up more than three earned runs or walk more than three in a single appearance.
Arkansas is in search of its first SEC Tournament championship in program history. It will be making its 10th appearance in the tournament in the last 11 years and 24th overall.
The most tournament wins for Arkansas came in 1999 when it won four games before falling to the Crimson Tide in the championship game. Head coach, Dave Van Horn is 21-25 in 14 SEC Tournament appearances.
The Razorbacks have made four SEC Tournament championship game appearances in their history, finishing runner-up in 1998 to Auburn, in 1999 to Alabama, in 2007 to Vanderbilt, and most recently, in 2017 to LSU.
Last year, the Hogs earned the four-seed for the tournament and reached the semifinals after wins over South Carolina and Florida. Arkansas fell a game short of its fifth finals appearance after falling to tournament runner-up LSU, 2-1, but took its momentum into claiming a top-eight national seed for the NCAA Tournament the next week.
For more information on Razorback Baseball, follow @RazorbackBSB on Twitter.
2019 SEC Tournament
Tuesday-Sunday, May 21-26
Hoover Metropolitan Stadium, Hoover, Ala.
Tuesday, May 21
Game 1                 9:30 a.m.      #6 Texas A&M vs. #11 Florida [SEC Network] Game 2                 TBD              #7 Ole Miss vs. #10 Missouri [SEC Network] Game 3                 4:30 p.m.      #8 Auburn vs. #9 Tennessee [SEC Network] Game 4                 TBD              #5 LSU vs. #12 South Carolina [SEC Network]
Wednesday, May 22
Game 5                 9:30 a.m.      #3 Georgia vs. Winner Game 1 [SEC Network] Game 6                 TBD             #2 Arkansas vs. Winner Game 2 [SEC Network] Game 7                 4:30 p.m.      #1 Vanderbilt vs. Winner Game 3 [SEC Network] Game 8                 TBD              #4 Mississippi State vs. Winner Game 4 [SEC Network]
Thursday, May 23
Game 9                 9:30 a.m.      Loser Game 5 vs. Loser Game 6 [SEC Network] Game 10              TBD               Loser Game 7 vs. Loser Game 8 [SEC Network] Game 11              4:30 p.m.       Winner Game 5 vs. Winner Game 6 [SEC Network] Game 12              TBD               Winner Game 7 vs. Winner Game 8 [SEC Network]
Friday, May 24
Game 13              3:00 p.m.       Winner Game 9 vs. Loser Game 11 [SEC Network] Game 14              TBD               Winner Game 10 vs. Loser 12 [SEC Network]
Saturday, May 25
Game 15              Noon             Winner Game 13 vs. Winner Game 11 [SEC Network] Game 16              TBD               Winner Game 14 vs. Winner Game 12 [SEC Network]
Sunday, May 26
Game 17              2 p.m.                        Winner Game 15 vs. Winner Game 16 [ESPN2]
All Times Central
The second game of each session will begin 30 minutes after the conclusion of the first game.
by John Thomas