Volleyball Falls on Senior Day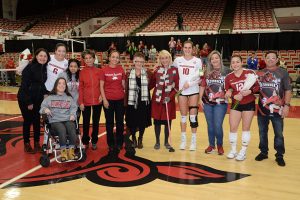 FAYETTEVILLE, Ark.– The Arkansas volleyball team fell 3-1 to No. 22 Tennessee Sunday afternoon on senior day.
FINAL
No. 22 Tennessee 3, Arkansas 1 | Box Score
Attendance: 477 | Time: 1:57
Barnhill Arena
#RazorStats
• Stat leaders vs No. 22 Tennessee
o Kills:  Logan Brown – 17
o Digs: Okiana Valle – 32
o Blocks: Ellease Crumpton – 5.0
The Hogs played the first set close, with the Lady Vols earning a 25-23 win. Arkansas evened the match in the second set with a 25-19 win before Tennessee pulled ahead with a 25-20 third set victory and clinched the win with a 25-23 win in the fourth set.
The Razorbacks will return to the court for their final matches of the season, facing Georgia and Alabama on the road.
BY Jordan Manning