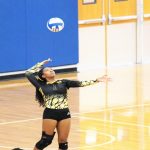 Volleyball Concluded Play At Tiger Brawl Invitational
MEMPHIS, Tenn. – The University of Arkansas at Pine Bluff volleyball team dropped its final game of the Tiger Brawl Invitational hosted by University of Memphis, falling to Gardner-Webb 3-0 (17-25, 19-25, 21-25) at the Elam Roan Fieldhouse.
Freshman Zyaire Garrit led the Lady Lions with six kills, two blocks, one dig, and one serving ace.  Sophomore Haley Gomez who tallied five kills, three block assists, and three digs and freshman Elyssa Kennedy dished out 17 assists.
On the defensive side, freshman Darynne Bickers led UAPB with five block assistants. Gomez also was named to the All-Tournament team.
"We've got to start strong and finish the game", said first-year UAPB head coach Chelsey Lucas.  "There were some mistakes we made as a team, but we'll fix them and get better as the season goes on."
The Lady Lions will return to action on the road to face the University of Arkansas Tuesday at 6 p.m. at Barnhill Arena.