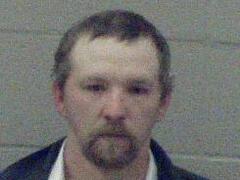 A Jefferson County man was sentenced to prison Tuesday after he was convicted of manslaughter in the death of another man in 2021.
Zachary Vermillion, 31, was originally charged with first-degree murder but a jury found him guilty of the lesser charge of manslaughter and of using a firearm in the commission of the crime which added another 15 years to the 10 years he was sentenced to manslaughter for. The two sentences will be served consecutively or one after the other.
Vermillion was changed in the death of Tony Jones, 51, who was shot in the head while Jones was in the back of a pickup driven by Vermillion on Whiteville Road. He was taken to a Little Rock hospital where he died.
According to a probable cause affidavit, the two men had been involved in an altercation continued as Jones sat in the back of Vermillion's truck and Jones reportedly picked up a tire iron. Also according to the affidavit, Vermillion said he saw a pistol in Jones' hand and picked up his own pistol and began shooting.
Vermillion was booked into the adult detention center following the trial. He had been released on a $200,000 bond after an initial court hearing.