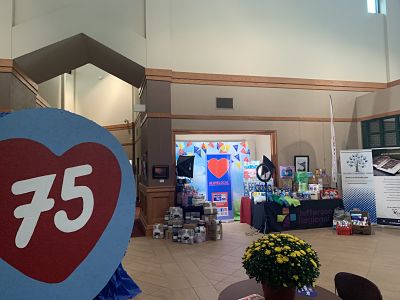 The United Way of Southeast Arkansas hosted their annual Day of Caring/ Meet and Greet for their 2022 campaign launch Tuesday, September 21st.  The event took place at the Reynolds Center in the lobby where there was food, beverages, T-shirts, and more in celebration of United Way's 75 years of fundraising campaigns in Pine Bluff.
During the event, Deltaplex News had a chance to speak with Gary Lloyd who is the Reynolds Center Manager about the purpose of the event.
In efforts to increase the Salvation Army's pantry, the items that were donated were toiletries, blankets, and other essential items to help with everyday needs. Lloyd went on to speak about those who contributed to the donations received including Simmons Bank.
United Way has a total of 20 non-profit partners serving the needs of Southeast Arkansas over the 75th consecutive fundraising campaigns that have led to 33 consecutive years of successfully raising over one million dollars to benefit the community.
The Day of Caring was not the only event that United Way has planned for the week in regards to the campaign launch for 2022. The kick-off event for the launch of the campaign will take place on Thursday, September 23rd at the Pine Bluff Country Club. The event will be open to the public and is free of charge.