UAPB's freshman quarterback Perry 1 of 9 added to STATS FCS Jerry Rice Watch List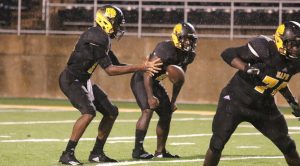 New Orleans native has come up big for UAPB in absence of JUCO All-American Shannon Patrick
CHICAGO, Ill. –
 Nine freshman players who have carved out a niche during the college football season were recently nominated to the STATS FCS Jerry Rice Award Watch List, including University of Arkansas at Pine Bluff Golden Lions freshman quarterback
Skyler Perry
, who took over the helm when junior college All-American quarterback
Shannon Patrick
went down with an injury early in the season after torching opposing defenses.
The Rice Award, named after the legendary Hall of Fame wide receiver, has been presented in the postseason to the FCS freshman player of the year since 2011.
Joining the watch list for the 2018 Rice Award:
Ty Brock, Sam Houston State, QB, R-Fr., 6-4, 210, College Station, Texas
Statistics: 119 of 214, 1,566 yards, 10 TDs, 7 INTs; 150 rushing yards, 3 TDs; 1 TD reception (6 games)
Mohammed Diakite, Penn, CB, Fr., 6-1, 180, Northampton, Pennsylvania
Statistics: 22 tackles (16 solo), 3 TFL, 2 INT, 4 PBU, 1 FR (7 games)
Andrew Edgar, Illinois State, WR, R-Fr., 6-0, 175, Chicago
Statistics: 29 receptions, 561 yards, 4 TDs (8 games)
Juwon Farri, Monmouth, RB, Fr., 5-10, 185, Germantown, Maryland
Statistics: 93 carries, 758 yards, 6 TDs; 11 receptions, 55 yards (8 games)
Ronald Kent Jr., Western Carolina, CB, Fr., 5-10, 160, Harrisburg, Pennsylvania
Statistics: 43 tackles (30 solo), 5 TFL, 12 PBU (8 games)
Noah Larson, North Dakota, LB, R-Fr., 6-2, 233, Baraboo, Wisconsin
Statistics: 44 tackles (25 solo), 3 TFL, 1 Sack, 1 QBH (8 games)
Skyler Perry, Arkansas-Pine Bluff, QB, Fr., 6-3, 197, New Orleans
Statistics: 113 of 198, 7 TDs, 3 INTs; 84 rushing yards (7 games)
Xavier Smith, Florida A&M, WR, R-Fr., 5-10, 165, Pembrook Pines, Florida
Statistics: 26 receptions, 335 yards, 3 TDs; 61.9 all-purpose yards per game (7 games)
Jareem Westcott, Stetson, RB, Fr., 5-10, 185, St. Augustine, Florida
Statistics: 102 carries, 590 yards, 11 TDs (7 games)
Named to the watch list last month were Jack Cook of Dayton, Jon Copeland of UIW, Bailey Fisher of Tennessee Tech and Robert Riddle of Mercer; running backs Josh Davis of Weber State, Alijah Jackson of Robert Morris, Ulonzo Gilliam of UC Davis and Quay Holmes of ETSU; wide receivers Brian Jenkins Jr. of Alabama A&M, Dev Holmes of Albany and Caleb Snead of Campbell; defensive lineman Malik Hamm of Lafayette; linebacker Chris Kolarevic of Northern Iowa; and defensive backs Christian Benford of Villanova and Robby Hauck of Montana.
Still a young award, the Rice award is distinguished, with three of the first four recipients to complete their college careers playing in the NFL: former Towson running back Terrance West, Eastern Washington wide receiver Cooper Kupp and Fordham running back Chase Edmonds.
A national panel of over 150 sports information and media relations directors, broadcasters, writers and other dignitaries will vote on the award following the regular season.
Also this season, STATS will present the Walter Payton Award (FCS offensive player of the year), Buck Buchanan Award (FCS defensive player of the year), Eddie Robinson Award (FCS coach of the year) and Doris Robinson Scholar-Athlete of the Year.
courtesy of www.swac.org