UAPB Men Hoops Drop Battle With Prairie View A&M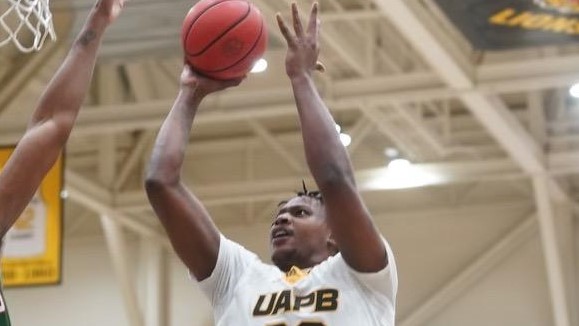 PRAIRIE VIEW, TX —UAPB men's basketball team got a 29-point showing from the bench, but fell 82-71 to the Prairie View A&M Panthers on the road Saturday.
The Golden Lions had two players score in double figures, led byShaun Doss Jr., who had 15 points, six rebounds and four assists. Kylen Milton added 12 points from the bench and Trejon Ware added six points, four assists and two steals.
Ismael Plet pulled down five offensive rebounds to lead the UAPB offense which grabbed 12 boards and turned them into 13 second chance points.
The UAPB defense was effective at taking away the basketball in Saturday's game, forcing 15 Prairie View A&M turnovers. Those takeaways turned into eight points on the offensive end of the floor. Ac Curry led the way individually for the Golden Lions with three steals.
How It Happened
After falling behind 4-3, UAPB went on a 6-0 run with 17:38 left in the first half, culminating in a bucket from Chris Greene, to take a 9-4 lead. The Golden Lions then lost some of that lead, but still entered halftime with a 35-34 advantage. UAPB relied on its three-point shooting in the period, knocking down five shots to account for 15 of its 35 points.
Prairie View A&M proceeded to take a 50-48 lead before UAPB went on a 5-0 run to seize a 53-50 lead with 11:34 to go in the contest. Prairie View A&M re-asserted control, outscoring the Golden Lions 32-18 the rest of the way to hand UAPB the 82-71 loss. UAPB got a boost from its bench in the period, as non-starters accounted for 12 of its 36 total points.
Game Notes
» UAPB bench made an impact by adding 29 points to its scoring output.
» UAPB lost despite a 36-29 rebounding advantage.
» The Golden Lions defense forced 15 turnovers.
» UAPB cleaned up on the offensive glass, collecting 12 offensive boards in the game.
» Shaun Doss Jr. led the Golden Lions with 15 points.
» UAPB got six rebounds from both Ismael Plet and Shaun Doss Jr.
The Golden Lions will remain in Texas and prepare for Texas Southern, Monday, February 20. Tip-off is set for 7:30 p.m.