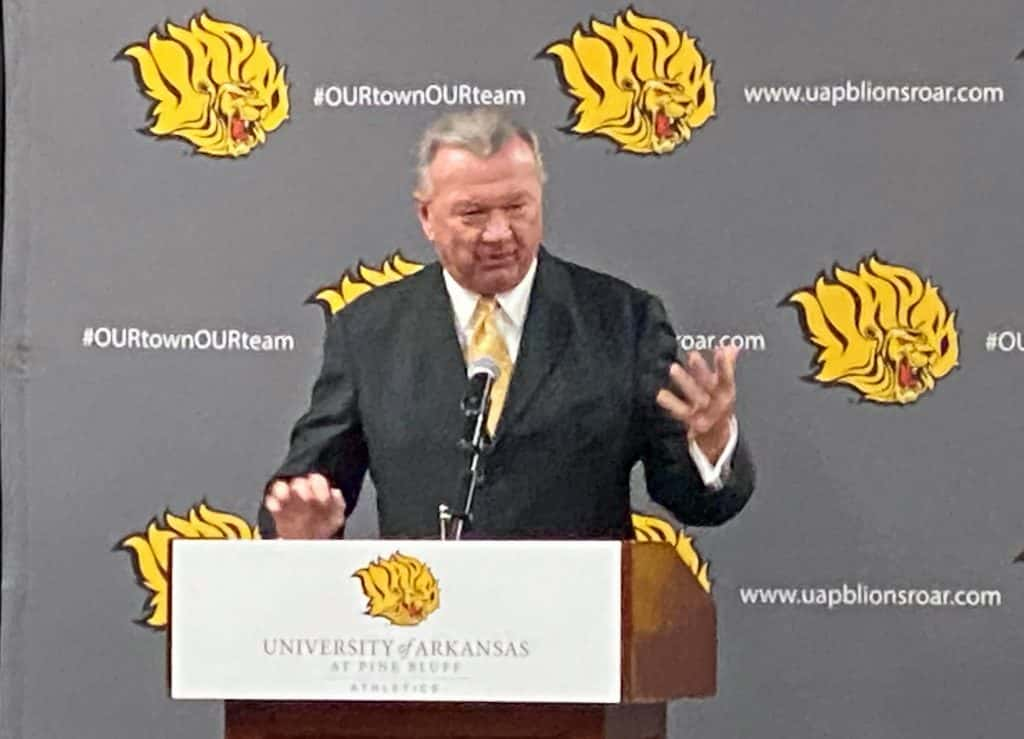 Chris Peterson has been named Director of Athletics at the University of Arkansas at Pine Bluff. Peterson was formally introduced at a Wednesday press conference by Chancellor Laurence B. Alexander in front of a room full of alumni and fans.
Alexander said that a nationwide search took place before Peterson was hired.
"We conducted a national search, and we did advertise in our usual publications," said Alexander. "Unlike our previous searches, we did not use a search firm this time. We established a committee of faculty, staff, alumni, and members of our community. We also held several meetings and reached out to various communities and our conference for interested persons, applications, nominations, etc. Once we got rolling we called down the group of applicants – a short list – and did interviews, then we narrowed that down to an even smaller group. In the smaller group we decided to go with Chris Peterson."
Alexander said there were four candidates in the final group of candidates.
"There were four," Alexander said. "We narrowed it to four before we made the choice of Chris out of those four."
Alexander said that there was considerable interest in the job.
"We had pretty good interest from across the nation," said Alexander. "Those candidates that we did interview had great things to say about this program, and about the prospects and possibilities for advancing this program and lifting it even higher. Everybody seemed to have a good feeling for where this program was in terms of its success rates in athletics, so we were able to have a good conversation with everybody because we were focused on what we felt we needed to have in an athletic director."
Alexander said that Peterson checked all of the boxes in regards to what he and those involved in the search were looking for.
"We were looking for someone who could be the total package of an athletics director, who could bring the academic aspect to it, the compliance, the management of coaches and of individual sports," said Alexander. "We wanted somebody who could be a fundraiser, who could build community relations and community partnerships and really, really work on our relationship with our alumni – and what I can truly say is that Chris checks every box. He's a complete package as it relates to all of those."
Peterson said he had interest in the job from the time it came open, and that he counts it as an honor to be able to be the Director of Athletics at an HBCU.
"When the position open I knew Chancellor Alexander. I met him about eight years ago and was a fan of his," said Peterson. "The Dr. (Stephen) Broughton and Jesse Mason whom I consider friends of the heart talked to me about it and said 'This is something you should look at. They are great people, and it would be a great fit.' Personally, I came down and got to meet some of the staff, got to meet some of the alumni, and got to meet some of the coaches and thought I would absolutely be honored to be Vice Chancellor of Athletics at an HBCU. To be honest with you I look at that as an honor, and I feel like I am blessed. I'm honored to be a part of it, and I am thrilled to be here."
Peterson gave his thoughts on what he hopes to accomplish at UAPB during his tenure.
"It's like I told the committee and the cabinet, I just want to have an impact," Peterson said. "I came here hopefully to have an impact, and to enhance the opportunities of our student-athletes, and to try to enhance the things that our coaches have to have a great program. The bottom line is all about getting your young people to get a degree, and to get a job. I played and coached briefly in a period of college athletics when getting a degree was the last thing on anyone's mind. Unfortunately, I can tell you out of about 45 student-athletes I enrolled with at Kansas State in the 70's only seven of us got a college education. That is back when they would redshirt your whole (freshman) class."
"I'm thrilled where college athletics has gone with progress towards graduation and things like that," Peterson continued. "I've actually served on an NCAA committee that dealt with recruiting and personnel issues. To me, it is all about an education."
Peterson said he will run a program each spring for graduating seniors to help them prepare for their next steps in life once they leave college.
"I'm really big on the whole athlete program," Peterson said. "I run a program in the spring for our senior student-athletes talking about hand-written thank you notes, and give them samples of it. Upon graduation they will get a box of hand-written thank you notes with stamps, a little etiquette place setting to provide them with things you need to do when you go out for a dinner interview. How many of us know that you sit down with your boss and you get an interview with he and his wife, or she and her husband, and you don't know which fork to grab or which glass to grab? Things like that I'm a big believer in that because our job is to get them an education, but it is to also get them into the work force and let them be a productive member of society and be great friends of their university."
Peterson said he was impressed with the new and upgraded facilities on campus for athletics and success student-athletes are having in the classroom, and he hopes to build on the work that has already been done. He will also be a part of hiring two new assistant football coaches.
"When I realized 184 of our student-athletes have a 3.0 or above, I was like 'Thank you!'," Peterson said. "That is a huge part of what I am all about. Athletics is always, unfortunately, a turnstile of coaches. That is just part of the business. Going through the process of hiring new coaches, I have been through that. That doesn't bother me. The thing that thrills me the most is the academic standing of our student-athletes because that is a huge part of what I am all about. Knowing we are in that block and going in the right place, that makes me very happy that I have no programs that are with APR issues or academic issues, because that really is why they are here. Yes, we want to win games. Yes, we want to do a lot of the other things, but the bottom line is getting an education and getting a job."
Peterson's last job as an athletic director was at UALR, where he resigned his post after making inappropriate comments during a soccer game in 2014.
"Unfortunately, what happened at UALR, I made a very off-color remark in what was perceived as a private situation that became a national comment that cost me my job," Peterson said. "There is not much else to say about it. It is something I regret, but I've gotten over it, I've moved on, and taking this job today and being a part of this institution is a great situation. Anybody who has got questions about my leadership, I can give you a list of tons of coaches and student-athletes that I've been part of their lives from hiring to mentoring to helping get jobs. I can give you a long list of people you could talk to if that's necessary. Needless to say, there was a lot of due diligence done on me, and the fact that I've been in the state for 20 years with Dr. Broughton and Jesse Mason and people that know me. I addressed that issue with the cabinet and committee, and it is what it is. I can't take it back, just go forward."