By Habtom G. Keleta, M.A.
ITTA BENA, Miss. – The University of Arkansas at Pine Bluff Golden Lions fell in yet another Southwestern Athletic Conference  in a thrilling 48-47 double overtime loss to Mississippi Valley State University at Rice-Totten Stadium for Valley's Homecoming game.
Freshman quarterback Skyler Perry completed 18-of-33 passes for 257 yards and threw three touchdowns while junior running back Taeyler Porter finished with a season high 173 yards on the ground and scored two rushing touchdowns.
The Golden Lions football team led 27-13 in the fourth quarter before giving up 21 unanswered points as it trailed 34-27 with just minutes remaining in the game. Perry drove his team down the length of the field and connected with freshman DeJuan Miller for a touchdown as time expired. Senior punter/kicker Jamie Gillan buried the extra point with no time on the clock to force overtime.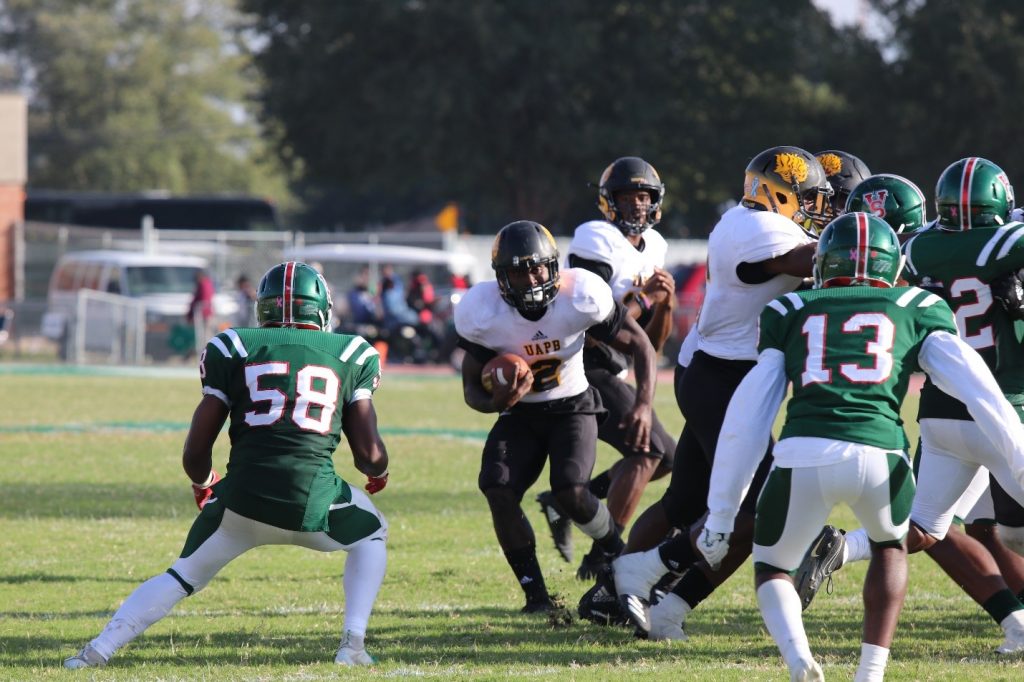 Miller finished with six catches for 92 yards and two touchdowns while teammate Tyrin Ralph finished with seven catches for 91 yards. Tight end Jeremy Brown produced three catches for 48 yards in the loss.
Delta Devils quarterback Dejerric Bryant rushed for 174 yards and three touchdowns.
On the defensive end, linebacker Je'Kevin Carter generated his second straight interception return for a touchdown in as many games and finished with eight total tackles while teammate A.C. Gilliam finished with a team-high 10 tackles.