Golden Lions suffer back to back heartbreaking SWAC road losses in OT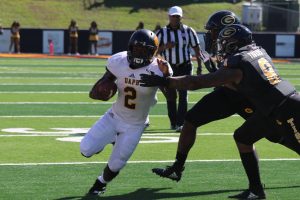 GRAMBLING, La.
– The University of Arkansas at Pine Bluff Golden Lions suffered yet another heartbreaking road Southwestern Athletic Conference loss, this time at the hands of Grambling State University by the score of 45-38 (OT) at Eddie G. Robinson Stadium.
Game Notes
-The game at Eddie G. Robinson Stadium was dubbed a "Pink Out" in honor of breast cancer awareness month
-UAPB finished with 27 first downs compared to just 16 for Grambling
-As at team the Golden Lions finished with 256 total yards of offense while the Tigers finished with 233 offensive yards
-Junior running back Taeyler Porter finished the game with a career-high 226 rushing yards on 38 carries and added three touchdowns. The Florida native had a vicious 75-yard touchdown run and averaged 5.9 yards per carry
-Porter entered the game just one yard shy of the SWAC rushing leader
-Freshman quarterback Skyler Perry went 23-of-43 for 202 yards, two touchdowns and one interception
-Freshman wide receiver DeJuan Miller had a career high 10 catches for 142 yards and two touchdowns, including a 37-yard catch
-Ruston native Jeremy Brown had four catches for 25 yards as he played high school ball down the road from Grambling
–Kolby McNeal finished the game with three catches for 22 yards, and scored what appeared to be the game-tying touchdown in overtime before officials reversed the call after further review and said the ball hit the ground
-FCS Preseason-All-American punter Jamie Gillan punted five times for a total of 217 yards, including a 51-yard punt
-Taeylor Porter finished with 228 all-purpose yards
-Grambling quarterback Geremy Hickbottom was sacked four times by the Golden Lions defense
–Jalen Steward finished with a team-high nine tackles and three sacks to go along with 3.5 tackles for loss
-Ruston native Je'Kevin Carter finished with seven total tackles and 1.5 tackles for loss as he played high school ball down the road from Grambling. Carter's streak of "pick 6's" ended today as he produced one in each of the previous two games
-Grambling's Danquarian Fields finished with a game-high 18 tackles
-In the second quarter, UAPB's Isaiah Johnson intercepted a pass from Grambling's Hickbottom
-The Golden Lions dominated time of possession with 34:04 compared to 25:43 for Grambling
-Grambling kicker Marc Orozco became the SWAC's all-time leader in scoring with 326 points as he kicked the P.A.T. in the second quarter following the Tigers' first touchdown
-Orozco saved the Tigers with a 20-yard game-tying field goal with less than one minute left in regulation to eventually force overtime
-UAPB had a 3-0 lead at the end of the first quarter
-Grambling scored on the first play of overtime as Darrell Clark hauled in a 25-yard pass from Hickbottom
-UAPB has lost the last three games by a combined score of 11 and are on a six-game skid
UAPB (1-7, 0-4 SWAC) returns to action on Saturday, November 3 as it hosts Alabama A&M in conference action for its annual Homecoming game. Kickoff is scheduled for 2:30 p.m. at Simmons Bank Field in Pine Bluff.