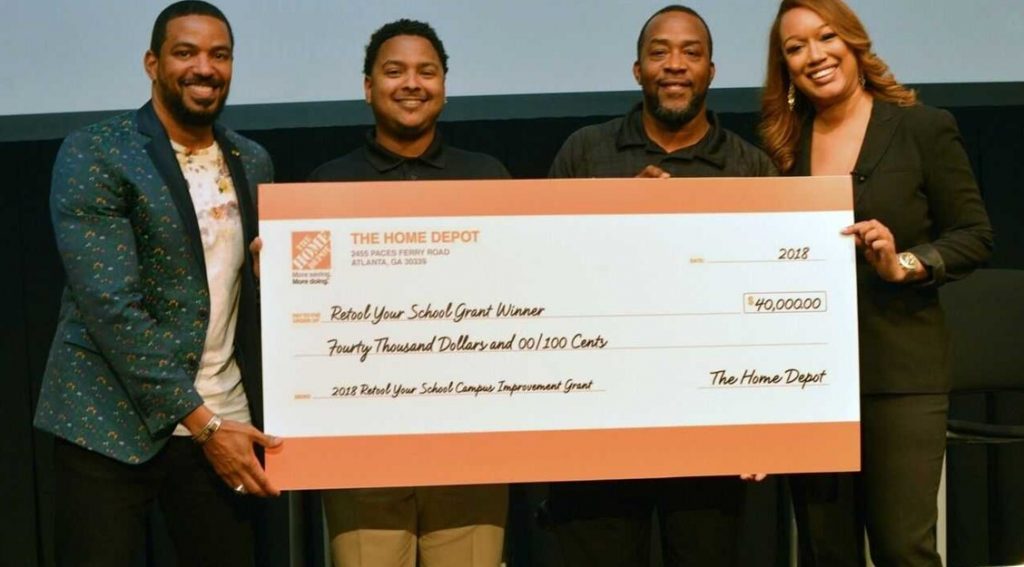 ATLANTA, Ga. – The University of Arkansas at Pine Bluff (UAPB) was one of nine Historically Black Colleges and Universities (HBCU) awarded money from Home Depot's Retool Your School campus improvement grant program; a total of $40,000 was awarded to the small HBCU in Arkansas for HBCU renovation projects.
Home Depot senior marketing manager Melissa Brown said the company began the HBCU program nine years ago to support the schools in projects that are sustainable and can be done without budget.
The annual program is considered one of the largest annual philanthropic efforts for HBCU's.
"Congratulations to our athletics department on receiving a $40,000 Home Depot prize," said UAPB Chancellor Laurence B. Alexander. "Also, thanks to everyone in Golden Lion Nation who participated in the challenge to get UAPB into the finals to receive the funds. The award is well deserved."
The Home Depot Retool Your School Grant Program was designed to encourage and recognize innovative projects that contribute to the campuses of accredited HBCU's. As for the nomination process, faculty, staff, students and community supporters were encouraged to nominate their favorite HBCU to participate in the program via Twitter and/or Instagram using the school's sponsor provided hashtag. Schools that received at least 100 nominations were notified in writing and were invited to enter the program for an opportunity for an opportunity to win up to $50,000.
Once a school was granted eligibility, it moved on to the online voting challenge. From there, schools that entered the program competed for the most online votes. The top three schools per cluster with the most votes moved forward in the program to submit a proposal for one of the nine available grants. To better equalize each school's opportunity to submit a proposal, the program adopted a "Cluster System." Under the Cluster System, each accredited HBCU was assigned to one of these three groups (or clusters) based on school size/enrollment data.
Cluster 1, which includes schools with a student enrollment of 4,000 or more
Cluster 2, which includes schools with a student enrollment between 1,201 and 3,999
Cluster 3, which includes schools with a student enrollment between 1,200 or less
Out of all the schools in each cluster, UAPB finished in first place in voting with over 300,000 votes. It was then placed in the final round with eight other schools as it battled two other schools in "Cluster 2" (Tuskegee University and Claflin University) for a chance at either $50K, $40K or $30K.
The $50,000 recipients were Jackson State University, Lane College and Tuskegee University.
The $40,000 recipients were UAPB, Southern University and Talladega College.
The $30,000 recipients were Claflin University, Fayetteville State University and Livingstone College.
A five-panel group that included actor Laz Alonso picked the winners.