September 18, 2019 –  In an apparent difference in philosophy UAPB Chancellor Dr. Laurence B. Alexander has relieved Melvin Hines as Athletic Director of the UAPB Golden Lions.  The Golden Lions program has seen significant improvements in the year Hines has been the AD.   Reportedly Alexander did not feel he was being kept in thee loop on decisions he felt important.   Deltaplexnews.com learned of the firing this afternoon and will have more information and updates as more facts are learned and the parties speak publicly.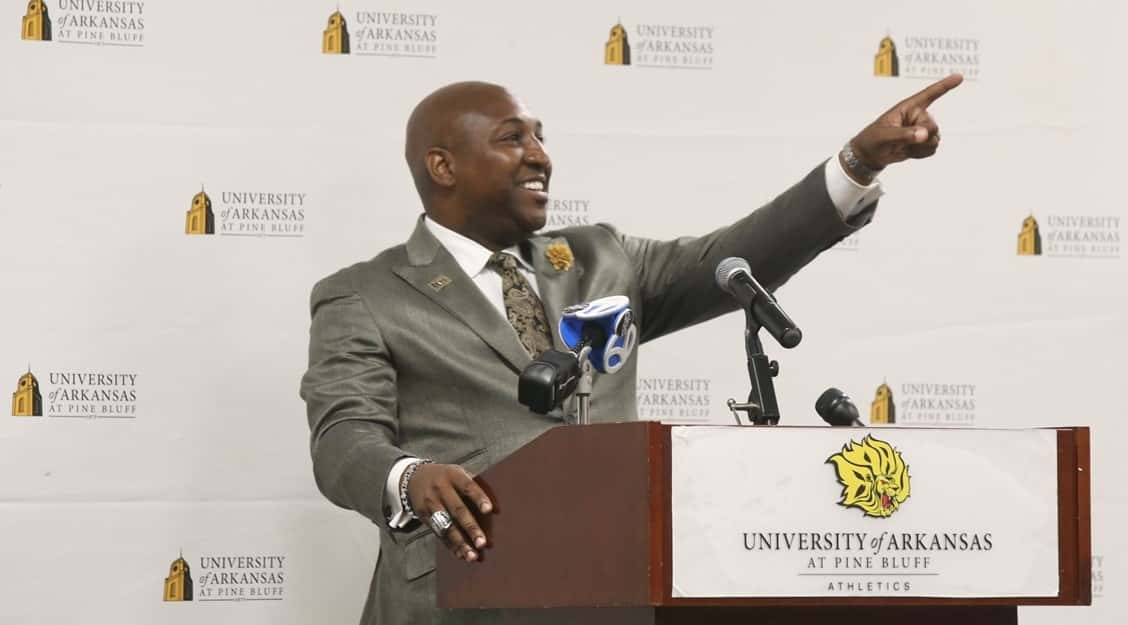 Below is Hines Bio from the UAPB Athletic Department Website:
Melvin Hines was named Athletic Director at the University of Arkansas-Pine Bluff in September, 2018.
Hines hit the ground running in year one, leading the department to a number of milestones and accomplishments.
Men's Cross Country Wins SWAC Championship; Lion Men Post Best Ever Finish In SWAC Commissioner's Cup Standings: The UAPB men's cross country program won its first SWAC Championship since re-entering the conference in 1997 and its first conference crown since 1993. The men's indoor track and field team finished third, and the men's outdoor track and field team finished fourth. The Golden Lions combined to finish third in the standings for the C.D. Henry Award for best all-around men's program in the SWAC. The men's golf team made a nearly 100-shot improvement over last year's performance in the SWAC Championship in posting a fourth-place finish. Cross Country head coach Chris McCoy was named SWAC Coach of the Year, and men's golf coach Roger Totten was named SWAC Co-Coach Of The Year.
Student-Athletes Have Strong Year Academically: UAPB student-athletes combined to post a 2.928 GPA for the 2018-19 year. A total of nine of the 14 teams had GPAs for 3.0 or better. 120 student-athletes earned a 3.0 or better in Spring 2019, including 31 with a perfect 4.0 grade point average. A total of 50 student-athletes graduated in Spring 2019.
Lion Teams Continue To Flourish In APR: The women's cross country team, women's track team, men's tennis, and men's cross country team each earned a perfect Academic Progress Rate (APR) score of 1000 for the 2017-18 year. A total of 13 of the 14 UAPB teams achieved above the NCAA mandate of 930 over the four-year period from 2013-14 through 2017-18.
Athletic Academic Center Opens: In December 2018, UAPB opened a new Student Athlete Academic Center in the J. Thomas May Field House. The center provides student-athletes with a lab with assistance from athletic academic advisors, computers, and programs to assist with their matriculation at UAPB.
Videoboard, New Turf Installed At Simmons Bank Field: Renovations to the home of Golden Lions football were completed prior to the 2018 season. Simmons Bank Field was renovated with a new video board, field turf, scoreboards, and audio system to provide an enhanced fan experience.
New Floor, Seating Installed At H.O Clemmons Arena: In January 2019, the renovated home for UAPB volleyball and basketball was unveiled. A new, brighter playing surface was installed with an updated UAPB logo emblazed at center court as well as new basketball goals featuring the UAPB logo on each basketball support. The renovation also included newly installed bleachers in the UAPB Black and Gold colors with the Golden Lion logo.
Baseball Facility Upgrades: The Torii Hunter Baseball Complex received facility upgrades this season. In February, new padding was installed around all fencing inside the newly named Bill Jones Field. In April, the Simmons Bank Pavilion opened behind home plate, featuring a team locker room, coach's offices, officials' locker room, press box, and concession stand.
Hines brings vast experience in intercollegiate sports at seven Division I institutions, including Auburn, Louisville, Alabama A&M, Troy, Minnesota, and Mississippi. Before coming to UAPB, Hines was Athletics Director at Alabama State.
Hines spent seven years at Alabama State, serving as Senior Associate Athletic Director from 2010-12 before a five-year stint as Athletic Director, including Interim Athletic Director from 2012-15.
While at Alabama State, Hines guided the athletics program through its most successful seasons. The Hornets won four straight SWAC Commissioner's Cup awards (2013-17), including a sweep of the women's and men's all-sports awards in 2014, and the women's programs combined to win five consecutive all-sports awards (2012-17). Alabama State sports teams combined to win 10 SWAC divisional, league, or tournament crowns in 2016-17, and won 47 titles since 2010.
Hines began his tenure with Alabama State University in August of 2010 when he was hired as senior associate director of Intercollegiate Athletics.  In that position, Hines provided senior level management and leadership for directing event operations, facilities and administrative services, as well as providing team/sport oversight, budgeting and personnel management. He was one of the leaders of the strategic and operational planning team for the University, and assisted with public relations and development activities.
In addition to providing direct oversight for 18 sports, Hines served as the Athletics Department liaison for the improvements and construction with of multiple athletics facilities, including the New Hornet Stadium (ASU Football Stadium), the Houston Markham Jr. Football Complex, the Wheeler-Watkins Baseball Complex and the Barbara Williams Softball Complex.
During the 2016-17 academic year, Hines oversaw the improvement of the Academic Progress rate (APR). For the first time in recent history, all of the athletic programs at Alabama State finished above the threshold needed to avoid penalty, while a pair of programs (women's cross country and women's golf) tallied perfect scores. For women's golf, it marked the second consecutive year of reaching that mark.
During Hines' tenure, Alabama State competed in the NCAA Tournament in volleyball, women's basketball, men's and women's tennis, men's and women's golf, softball and baseball as SWAC Champions. In addition, the softball team won its first ever postseason tournament game in 2017, defeating UT-Martin, 3-0, at the National Invitational Softball Championship (NISC).  Also in 2015, the women's track and field team competed at the NCAA Division I National Championship, and in 2016, the men's 4×100 relay team and a long jumper qualified for the NCAA Division I Nationals.
Hines oversaw the building and enhancements of the athletics department branding through social media (Facebook, Instagram and Twitter), and expanding the partnership with Sidearm Sports on the official athletics website for alums, fans, parents and student-athletes to follow all the latest news. Hines also oversaw the creation of the platform to video stream home athletics events in football, volleyball, soccer, women's and men's basketball, baseball, and softball.
A former wide receiver at Auburn University, Hines began his coaching career in 1997 as a graduate assistant at the University of Louisville. The Huntsville, Ala. native returned home in 1998 to serve as receivers coach at Alabama A&M, a position he held for next four years. He moved to administration to develop and implement the CHAMPS (Challenging Athletes' Minds for Academic Success)/Life Skills Program, working with student-athletes in career and personal development, as well as in commitment to academics and service. Also, Hines served as Judicial Affairs Officer for the Bulldogs (2003-04).
Hines gained additional experience at Troy University as the Director of Student-Athlete Services (2005-06) before moving to the University of Minnesota and serving as liaison to various on-campus departments, while focusing on the developing and implementing of a comprehensive advising program for student-athletes. From 2008 to 2010, Hines was the associate director of Student-Athlete Academic Support Services at the University of Mississippi, where he assisted with the oversight, coordination and daily operations of the Department for Rebel Athletics.
Hines holds a Bachelor of Science degree in Adult Education from Auburn University and a Master of Science in Education with a concentration in Sports Administration from the University of Louisville. Among his professional affiliations, he is a member of the National Association of Collegiate Directors of Athletics (NACDA), National Association of Athletic Development Directors (NAADD), Minority Opportunity Athletic Association (MOAA) and the National Association of Academic Advisors for Athletics (N4A). Hines is also a member of the FCS-ADA Committee, and a past SWAC Football Representative.
Hines, a member of Kappa Alpha Psi Fraternity Inc., is married to Landy, and the couple has three children, sons DeAndre and Tyler, and daughter Madison.