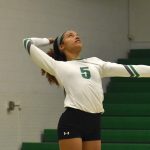 UAM Volleyball drops last two games at Miner Invitational
ROLLA, Mo. – The University of Arkansas at Monticello Volleyball team dropped both matches Saturday as it concluded its trip to Rolla, Missouri at the Miner Invitational. Arkansas-Monticello battled the Missouri University of Science and Technology in match one, but fell, 3-2. In match two, UAM lost, 3-1, to Arkansas-Fort smith.
Leslie Polanco led the attack on the day combining for 32 kills. MarKayla Dickie, who added 28 kills, aided her.
On defense, Jessica Mahan had 47 digs in two contests and Taylor Calhoun added five blocks at the net.
With the pair of losses, UAM drops to 1-3 to open the season.
All four of its matches at the Miner Invitational were battles, with two of them going to five sets.
MATCH ONE
In what was quite a battle for UAM's first match of the day, Arkansas-Monticello fell in five sets against the host school of the tournament, Missouri S&T.
After losing its first two sets 25-21 and 25-10, respectively, UAM bounced back to win the next two, 25-21 and 25-23. Unfortunately, it fell in the final set, 15-13.
Polanco led Arkansas-Monticello on the attack totaling 17 kills, while Dickie chipped-in with 11.
Pearson continued her distribution numbers early on this season posting 39 assists.
Defensively, Mahan registered 28 digs and Polanco added 22. Pearson also managed double-digit dig numbers with 12.
UAM also was tough at the net as Dickie recorded two solo blocks and Zealia Kleitz added three assisted. Taylor Calhoun, Halli Lambert and Dickie each posted two assisted blocks while Polanco managed one assisted.
MATCH TWO
As for the second contest on the day, UAM fell to UAFS, 3-1. Arkansas-Monticello won the first set, 25-20, but Arkansas-Fort Smith won the next three sets, 25-15, 25-12 and 25-22.
Dickie led UAM on the attack with 17 kills, while Polanco added 15. Halli Lambert also aided with six kills.
Pearson chipped in some offensive and defensive numbers tallying 35 assists and 13 digs.
Mahan also managed 19 assists on the backline and helped out on the offense with four assists.
Calhoun was impressive at the net posting three blocks, while Dickie chipped-in with two.
UP NEXT
Arkansas-Monticello will travel to Durant, Oklahoma on Friday, September 13th for the Southeastern Oklahoma Tournament. Its first of four matches will be against Union University (Tenn.) at 9 a.m.