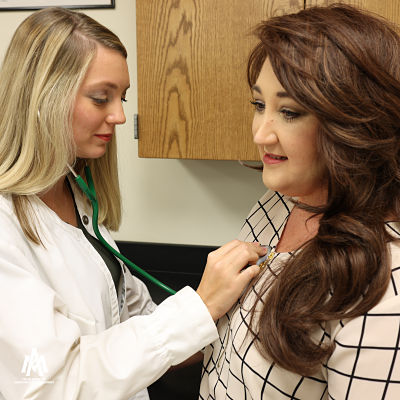 The University of Arkansas at Monticello announced in a news release Monday, October 11, that they will offer a new Master of Science in Nursing in public health to provide nurses with needed skills to help patients and their communities live healthier lives.
The program, the only one of its kind in Arkansas, will be offered in June 2022, pending approval from the Higher Learning Commission. The degree will be 37 hours, fully online, with the final 14 hours including practicums. The degree includes MSN direct care nursing courses and specialty-focused courses preparing students on public health policy, economics, education, and leadership.
"The goal of the Masters of Science in Nursing Degree is to expand all nursing opportunities and to reach all communities," said Brandy Haley, Ph.D., RN, and Dean of Nursing at UAM. Dr. Haley has been a nurse for more than 25 years, with a decade of specialty practice spent in public health.
"This degree teaches RNs at a graduate level to connect resources in the community to create a healthier population," Haley said.
In 2019, Arkansas ranked 42nd out of the 50 states in the Commonwealth Fund's scorecard on state healthcare. Low healthcare rankings in Arkansas were due to many factors, including the number of adults who report poor or fair health, hospital 30-day mortality rates, and the number of children without a medical and dental preventive care visit, all measures for which Arkansas is ranked last among states.
Destiny Allison, BSN, RN, and a 2016 UAM nursing graduate, spent five years as an intensive care RN at Jefferson Regional Medical Center in Pine Bluff. She understands what the state is facing in terms of health.
"Coming off COVID, a lot of patients are seeing heart issues as well as long-term respiratory problems," she said. "In the South, it's hypertension and diabetes." Many of those patients simply don't have the knowledge they need to keep themselves healthy.
Allison is the UAM School of Nursing Simulation Coordinator. The simulation unit provides mannequins that can replicate a range of situations students might encounter on the job without worrying about harming a patient.  Allison said she plans to enroll as a student when the MSN program opens.
To qualify for the MSN program, candidates must have spent at least one year practicing as an RN before being accepted. Haley said the current UAM nursing program can accept approximately 60 students a year.
"Students have a job before they graduate," said Haley.
There will be two tracks for the MSN degree. Prospective students with a Bachelor of Science in Nursing can move through the program in two to five years, depending on how many credits they take each year.
Students with an Associate Degree in Nursing or a Diploma in Registered Nursing can take from three to seven years to complete.  Students in the RN to MSN track graduate with both a BSN and MSN degrees.
The degree can have another significant benefit for graduates. Haley said the difference between a BSN degree and an MSN is about $15,000 a year on average, depending on the population, size
of the facility and locale.
For more information on the MSN degree at UAM, contact the program coordinator, Christine Felts, Ph.D., RN at 870-460-1969, https://www.uamont.edu/academics/nursing/index.html