The University of Arkansas at Monticello's 1979 Arkansas Intercollegiate Conference Championship Football team will be inducted to the UAM Sports Hall of Fame in October.
The 1979 team joins the 1956 AIC Champion Men's Basketball team and the 1990 AIC Champion and National Association of Intercollegiate Athletics National Runner-Up Women's Basketball team as the only teams inducted to the UAM Sports Hall of Fame.
The team will be inducted at the annual Hall of Fame Banquet on October 17 at 6 p.m. in the John F. Gibson University Center Green Room. Tickets are $35 and may be purchased by calling the Department of Athletics at (870) 460-1058.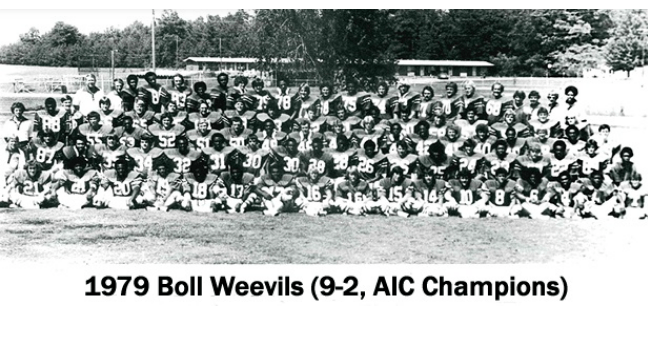 The 1979 Boll Weevils won the AIC with a record of 9-2 and laid the foundation for the school's football success in the 1980s and early 1990s. The late Harold Tilley, who was named the AIC and NAIA District 17 Coach of the Year coached the '79 Weevils.
Several members of the 1979 team are in the UAM Hall of Fame as individuals, including running back Terry Alexander (Class of 2001), defensive tackle Steve Mullins (Class of 2002), offensive tackle Dannie Barker (Class of 2005), and tight end Byron Gasaway (Class of 2008).
The team will also be recognized at halftime of the Boll Weevils vs. Southern Nazarene University football game on Saturday, October 19 at 3 p.m. as part of Homecoming and Hall of Fame Day.