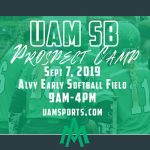 UAM Softball Announces Prospect Camp
MONTICELLO, Ark. – The University of Arkansas at Monticello softball team will host Showcase/Prospect Camp for athletes who are in the 8th through 12th grades on Saturday, Sept. 7th, at Alvy Early Softball Field on the campus of UAM, head coach Kyle Lem announced Monday. The camp will be from 9 a.m. to 4 p.m.
The camp is for aspiring softball players who want to showcase their skills in all aspects of the game.
Campers will receive skill instruction in all defensive position groups (pitching, catching, corner infield, middle infield and outfield). Offensive skills taught include hitting, slapping, bunting, and base running.
The campers will also be separated into competitive teams and participate in games and/or scrimmages. The prospects will get to interact with other prospects, current players and coaches.
The showcase will be limited to 40 campers: 10 pitchers, 10 catchers and 20 position players.
Prospective attendees should bring a bat, glove, batting gloves, helmet, ball pants, sliders, sliding pads, rosin, catching gear, arm guard, and/or anything else they may need to play softball.
In case of rain, the camp will move to the turf of the Jack and Judy Lassiter Indoor Practice Facility.
The cost of the camp is $110 and it includes a T-shirt. Refunds will be given, less a 10% processing fee, until three days prior to the day of the camp. You can sign up for the camp through the link using camp website at the top of the page.
For more information, please contact Kyle Lem at Lem@uamont.edu, or (870) 460-1158. You may also contact Miranda Garza at GarzaMS@uamont.edu.