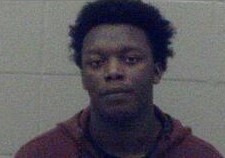 By Ray King
Two suspects accused of murder in the Feb. 2 shooting death of a Pine Bluff teenager made their first court appearance Wednesday and will be held without bond.
Jabari Smith, 19, and Malik Shorter, 14, were taken into custody in connection with the death of Siar Grigsby, 14, whose body was found under a carport at 5006 Hoover St., on Feb. 2, and was pronounced dead at the scene.
Grigsby's age was initially listed as 15. His birthday would have been later this month.
Shorter is being charged as an adult with capital murder and aggravated robbery, as is Smith.
During the court hearing, Chief Deputy Prosecutor Will Jones said when police arrived at the scene, they found several nine-millimeter shell casings on the ground and Grigsby's pockets had been turned out and there were items on the ground.
Smith and Shorter were at the scene when police arrived, and Jones told the court what they told police.
He said on Feb. 7, police obtained video from a church across the street from the house where the homicide occurred.
Pine Bluff District Judge John Kearney told Smith and Shorter to come back to court March 3. They said they would hie their own attorneys.
This was the 3rd homicide of the year in Pine Bluff.