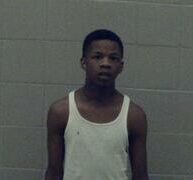 By Ray King
Two suspects who were arrested Tuesday in connection with the murder of a teenager on Monday will be held without bond on capital murder charges.
Darrion Deshawn Williams, 20, of Pine Bluff, and Jordan Johnson, of Little Rock, face charges in the shooting death of Tristain Harris, 17, who was found outside a parked vehicle on the parking lot of the Elm Street Apartments at 818 S. Elm St. and pronounced dead at the scene by Deputy Coroner Eric Belcher. His body was sent to the State Medical Examiner's Office for an autopsy to determine the cause and manner of death.
Williams and Johnson are also accused of aggravated assault and committing a terroristic act.
During a court hearing Wednesday, Deputy Prosecutor Mircha King told the court what officers found when they arrived at the scene.
Detective Mike Merritt reported that video footage from a nearby camera and from several residences showed a silver Nissan Sentra pull up to the location and a male get out on the passenger front side of the vehicle and fire at the victim, who was outside the whiter Oldsmobile Alero.
A license check on the Nissan gave police the identity of the registered owner and when she was questioned, told police that her boyfriend, Williams, had been driving the vehicle. Detectives were able to locate Williams and Jordan at an address on Faucett Road and they were taken into custody.
King told the court what happened next.
The murder was the 8th reported in Pine Bluff so far this year.