By Ray King
Two Pine Bluff men were arrested Sunday after they allegedly pointed guns at police officers who were looking for water leaks.
Jamarcus Brown, 20, and Jamarian Brown, 20, were taken into custody after police reported seeing the two with a rifle and a handgun and point the guns at an unmarked car containing Deputy Chief Shirley Warrior and two other officers.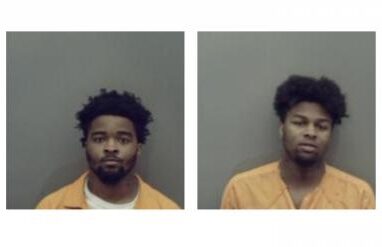 During a court hearing Tuesday, Deputy Prosecutor Jay Girard said the officers were in the area of 18th Avenue and South Louisiana Street at about 1:15 p.m. when they saw three males with guns walking south on Louisiana Street. The officers followed the men to 22nd Avenue and Louisiana Street and Girard described what happened next.
When Jamarcus Brown was interviewed, he said he had a handgun and did not know the vehicle that stopped contained police officers. Jamarian Brown said he had a rifle and got nervous when a vehicle he did not know stopped. He said he lifted the rifle up to a ready position but did not point the gun at police.
Girard said Jamarian Brown has no prior criminal record, but Jamarcus Brown has charges of false imprisonment and terroristic threatening pending from a 2019 case.
Jefferson County District Judge Kim Bridgforth set a $75,000 bond for each of the men after ruling prosecutors have probable cause to charge them with three counts of aggravated assault. The Public Defender's Office was appointed to represent them.