By Ray King
Bonds of $250,000 each were set Friday for two juveniles accused of being involved in a carjacking in the late evening hours Wednesday.
Jefferson County District Judge Kim Bridgforth set the bond after ruling prosecutors have probable cause to charge London Holman, 17, and Kasey Humphrey, 18, with aggravated robbery and four counts of aggravated assault.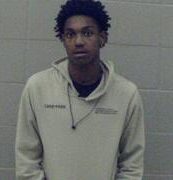 Reading from an affidavit by Detective Chris Wieland, Deputy Prosecutor Joe West said police were sent to the United Filling Station on Bryant Street in response to the carjacking of a black Dodge Durango.
West said on Thursday, Holman and Humphrey were questioned and gave statements to police.
Holman and Humphrey were ordered to have no contact with the victims and said they would hire their own attorneys.