By Ray King
A Pine Bluff man currently on probation was arrested Thursday after sheriff's deputies found a gun in the man's pants following a traffic stop.
Troy Lambert Jr., 23, was taken into custody after Tri-County Drug Task Force Investigator Nathan
Jines and Sgt. Courtney Kelly stopped a Honda Civic driven by Lambert after seeing the vehicle cross the white fog lines on I-530 numerous times.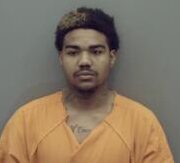 During a court hearing Friday, Deputy Prosecutor Caleb Conrad said Jines activated his blue lights and Lambert pulled over near Bryant Street and the Martha Mitchell Expressway. Conrad then told the court;
Lambert was placed on probation following a 2017 robbery conviction and prosecutors have filed a petition to revoke that probation.
Because of the probation status, Jefferson County District Judge Kim Bridgforth set a $10,000 cash-only bond for Lambert after ruling prosecutors have probable cause to charge him with being a felon in possession of a firearm. Lambert said he would hire his own attorney.