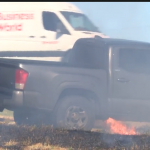 A Toyota Tacoma went into flames on I-30 near the I-40 junction in North Little Rock Monday after the fuel tank exploded.
The driver was able to jump from the flaming truck. The vehicle was heading westbound on Interstate 30 when it hit debris in the road, causing the fuel tank to rupture.
According to North Little Rock Fire Marshall Dustin Free, the ruptured tank was combined with a friction of metal. This caused the side of the pick-up and everything in its path to go into flames. No one was harmed in this accident.