By Deseray McKinzy
Thursday evening the Arts and Science Center (ASC) hosted their first Drop-In Reception event since the start of the pandemic in 2020. The reception featured Defining Home: Mixed Media & Ceramics of Yelena Petroukhina and the collection will remain featured until July 10, 2021. The ASC hosts reception events to allow visitors to connect with the featured artist and gain a better understanding of their work.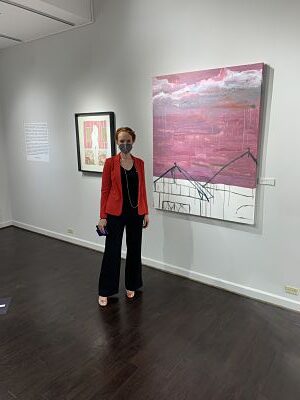 The reception describes Yelena Petroukhina's Defining Home, through a collection of masterful and diverse mixed media, acrylic on canvas, and ceramic works that allows visitors to reflect on the relationship they have with the space they occupy, in whatever form that takes. Petroukhina is originally from Russia but studied in the US at the University of Arkansas at Pine Bluff and gained her undergraduate degree in Art. Petroukhina further elaborated on her motivation for the featured collection,
In recent years, Petroukhina teaches art at Horace Mann Arts and Science Magnet Middle School in Little Rock.