UAPB running back Taeyler Porter's 98-yard touchdown run in Saturday's 45-38 homecoming win over Lane is the longest run in school history and the third-longest play in the history of the Arkansas At Pine Bluff football program.
Porter's fourth-quarter touchdown run surpassed the record of Henry Wright, who had an 89-yard run against Wiley College in 1965. Porter's touchdown run is the second longest in the history of the Southwestern Athletic Conference, as Mississippi Valley's Hubert Owens had a 99-yard touchdown run against UAPB in 1980.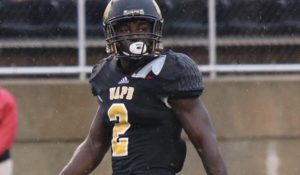 Only two plays are longer than Porter's 98-yard run in Golden Lion history. In 1998, Chris Akins' 100-yard interception return for touchdown at Alcorn State ranks as the longest play in school history. In 2006, Derrick Poole caught a screen pass from Christopher Wallace and took it 99 yards against Grambling in the Arkansas Literacy Classic in Little Rock for the longest passing touchdown in school history.
Porter finished last week's game with a season-high 182 rushing yards and two touchdowns and earned STATS FCS National Player of the Week Honorable Mention honors. He currently ranks third in the SWAC with 577 rushing yards and is tied for second in the league with seven rushing touchdowns.
The Golden Lions will return to SWAC play Saturday against Mississippi Valley State at 1 p.m. at Simmons Bank Field in the Breast Cancer Awareness Game.
Tickets are available online at uapblionsroar.com/tickets, by calling 870-575-8601 or at the UAPB Ticket Office at Simmons Bank Field.
The UAPB Sports Network Radio Broadcast begins with the Lions Roar Pregame show at 12:30 p.m. on KPBA 99.3 FM The Beat in Pine Bluff, KARN 920 AM The Sports Animal in Little Rock, online at uapblionsroar.com/live and on the free UAPB Athletics App.