Swimming Finishes at USA Winter Nationals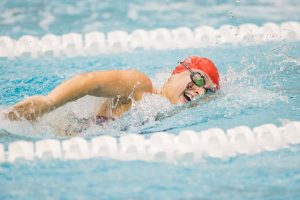 GREENSBORO, N.C.– The Razorbacks concluded competition at the USA Winter Nationals Saturday night, with four swimmers advancing to the finals and Kiera Michailoff-Russell earning a podium finish.
Of the five events, the Hogs were represented in four by nine swimmers. Peyton Palsha swam in the 1500 meter freestyle, placing seventh in the first heat (17:08.73) and 15th in the second heat (17:08.73).
In the 100 meter freestyle preliminaries, Molly Moore placed 50th with a time of 58.62 and Kobie Melton tied for 31st (58.01). Michailoff-Russell earned a 25th place finish in the preliminaries (57.63) and a third-place finish in the C Finals with a time of 57.44. Anna Hopkin earned a third place finish in the preliminaries (54.54) and finished fourth in the A Finals (54.53).
Marlena Pigliacampi tied for 13th place in the 200 meter butterfly preliminaries with a time of 2:16.44 to advance to the B Finals, where she finished in fifth place (2:16.96).
Arkansas had three swimmers in the 200 meter breaststroke, with one advancing to the finals. Freshman Emma Garfield finished in 45th place (2:42.35) and senior Sydney Angell earned a 35th place finish with a time of 2:40.13. Vanessa Herrmann finished in 18th place in the preliminaries (2:36.97), finishing in fourth place in the C Finals (2:36.74).
The Razorbacks will return to the pool on Dec. 16 at the World University Games Diving Qualifier in Atlanta, Ga.
BY Jordan Manning